Alberta Immigration Introduces Two Significant Changes To Offer An Easy Pathway
Posted by Admin
Posted on November 20, 2018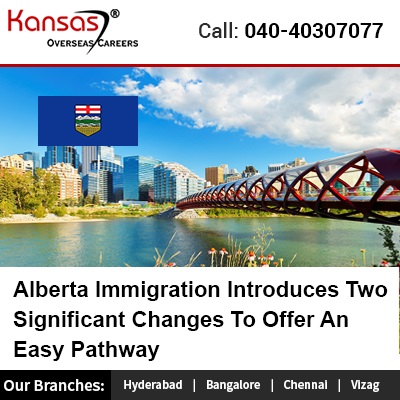 Alberta province in Canada is a preferred destination for immigrants. Nicknamed as Energy province, sunshine province, and princess province.  For nearing to 4 million people, this province is home; the large chunk of the population resides in the two largest cities of Alberta, Edmonton and Calgary. Edmonton is the capital city of Alberta province. Both Calgary and Edmonton cities have a population of around 1 million residents. Alberta Immigration is one of the top destinations for immigrants in Canada.
Presently the Alberta economy is experiencing growth. Almost all provinces in Canada is looking forward to attracting more talented individuals with its recent multi-year plan. Most of them will be newcomers though Express Entry (EE) aligned programs such as
Federal Skilled Trades Class
Federal Skilled Worker Program
Canadian Experience Class
Alberta PNP-Two Major Changes :
The first change is relating to the income requirement
Every applicant aspiring to immigrate to Canada earlier has required to have a specific minimum income to be eligible for Alberta immigration. Hence, the numerous applications who did not meet the above requirement got their application rejected. The above minimum requirement has been removed by the Alberta. If the applicant scores are above the minimum criteria, they will be eligible. It is good news to Canada immigration applicants. This province is known to offers high-demand jobs. With greater ease, candidates can get selected for Canada immigration
The second change relates to the minimum language requirement
The second change relating to Alberta immigration application is about minimum language requirement. According to a few of the immigration news sources, it revealed there would be an increase in the Canadian Level Benchmark (CLB); this is not true entirely, only part of it is true.
This year, in June 2018, when Alberta opened its Alberta Opportunities Stream (AOS) had an announcement, about the increase in minimum language from CLB4 to CLB5. Based on the market situation, after further evaluation, the Alberta Immigrant Nominee Program authorities have decided to delay the above decision.
Starting from 1st June 2020, language requirements would increase only for O, A and B category jobs. For jobs relating to Category C and D of the NOC (National Occupations Classification), there would be no change. The change would be very marginal one; the eligibility language requirement will increase from CLB4 to CLB5.
Even though Alberta immigration offers the easiest pathway, but still it is advisable to take assistance from professional visa consultants, you can reach us. We are one of India's top visa consultants. Our Canada Visa Agents will not only assist you to move to your desired destination in a short time, but they will also ensure you get the best value for money.