Can we expect low CRS score for Canada PR in 2019?
Posted by Admin 1
Posted on February 14, 2019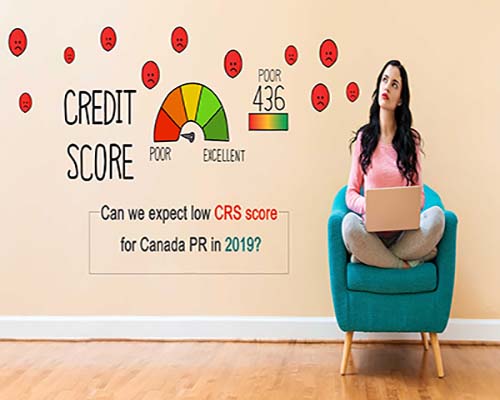 The fascinating feature of the Canada Express Entry System is the point-based system. This is one of the significant facts for increasing the desire of Canada PR among skilled candidates. The immigration government of Canada has even introduced several pathways to simplify the process. But, to avail such benefits, the candidates should have a good score supporting their process.
CRS score or Comprehensive ranking system score is the prime factor for your immigration process. There isn't any limit for high CRS score, but if you are under the range of minimum CRS score, there are chances that you can obtain your Invitation to Apply for Canada Permanent Residence a bit earlier.
What can be the CRS score requirement in 2019?
In 2018, the lowest rank requirement was set to 439 CRS points. However, even this score was reached in December 2018 with a significant number of invitations. If you are planning to set your profile to a minimum score needed in 2019, then it is very natural that there isn't any idea of what can be the minimum score.
However, there can be a prediction of the lowest score for this year. We can expect the Express Entry Draws which are conducted with a pre-determined score to reach nearly 430 – 440 CRS score. This is a range where most of the skilled candidates remain. Since it is a prediction; there are even chances for a decrease in the CRS score.
Will the target of high intake reduce points requirement?
Probably, we can expect even this as a reason for point decreasing. The Canada immigration government is targeting great intake numbers for the coming years. And, for the year 2019, the country is aiming nearly 81,400 immigrants through Express Entry.
For meeting such great targets, there are multiple ways which can be expected. The IRCC can conduct Express Entry draws with low CRS score and increase the scale of intakes (or) can increase the CRS score and decrease the size of intakes (or) can reduce the score and intakes, or vice-versa.
Do I qualify for Canada Express Entry?
The Canada Express Entry system aims a minimum of 67 points for a candidate to be eligible. These points are calculated on your factors such as age, education, work experience, language proficiency, and adaptability. The highest score obtained for your eligibility simplifies your Canada PR process.
If you are in search of visa agents who can guide your immigration process, then you can speak to our expert visa consultants. Call on this Toll Free No: 1800-102-0109 or fill our free visa assessment form.