Canada ranks No.1 in the World's Quality of Life List
Posted by Admin 1
Posted on February 4, 2019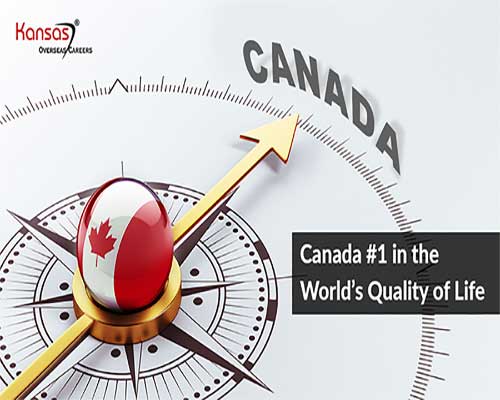 The popular and most favorable country, Canada is awarded as the World's No.1 country in 2019 for its quality of life. Based on a report conducted within the US News and World Report, Canada backs second in a row. The report which was tallied on the basis of political stability, freedom of individual's, quality environment, security, etc., has excelled Canada as the best livable country for their citizens and immigrants.
How did the US News and World Report conclude Canada No. 1?
Every year, the US News and World Report survey the best 80 countries on 75 various parameters of living. Also, this includes a questionnaire from 20,0000 global living citizens.
The equally weighted average is sorted out from the nine-country elements which contribute to the country's quality life. In the overall Best Countries ranking, about 17% weight was contributed towards the sub-ranking of Quality of life. Among this, Canada ranks as the world's No.3 for overall best country ranking.
What are some key parameters rankings of Canada based on the US News and World Report?
Canada is the No.1 country in the world for Quality of Life.
It is the 2nd best country in the World for Citizenship.
3 in the world for Women.
4 in the world for a comfortable retirement.
9 in the world for Green Living.
Ranked 3rd best country in the world overall parameters.
It is the 3rd best country for education.
Awarded as the 4th best country to raise kids.
Canada the best country for immigration
Yes, Canada is one of the best countries in the world. The Report from the US News and the World indicates the growth and the acceptance for the country. Also, it is the country which is having permanent residency conversions.
The Canada Permanent Residence offers a range of benefits with best allowances for the immigrants to live in the country. The country has become the first choice for Canada immigration, after the strict immigration rules of the US and the UK.
How to obtain my Canada PR visa in Hyderabad?
To obtain your Canada Permanent Residence Visa faster in Hyderabad, get started by consulting the best immigration consultants in Hyderabad. Also, it is required to be updated with the changes in the rules and eligibility to follow the best program which suits your profile. A visa consultant will be the expert to guide on all such needful requirements.
Kansas Overseas Careers is one of the expert visa consultancies in India providing top immigration services for Canada. To get your eligibility check for Canada PR, visit the Immigration Agents in Hyderabad or call on their Toll-free number: 1800-102-0109.