Is French compulsory for Quebec Immigration
Posted by Admin
Posted on July 28, 2018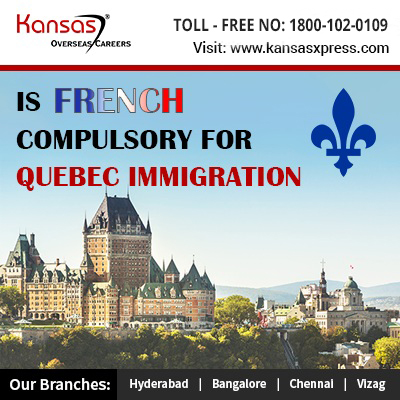 Many foreign workers opt for Canada Quebec immigration. This is the largest province of the country and it has Montreal city which is the second largest city of Canada. One thing that makes this province different from other provinces is that it has French as its official language. There are special laws in this province in order to protect the status of this language. Now the question is that is proficiency in French language a mandatory criteria for migrating to Quebec? Many people may think that since it is their official language knowing French will be a pre requisite to move to Quebec. But the fact is that there is no such compulsion or rule. Yes this is truth! There are some Quebec immigration programmes where one need not know French.
A look at the immigration programmes of Quebec:
The Quebec skilled worker program is one programme where there is no need to know the French language. This programme is based on point based system. If a candidate knows French then he will get additional points. This will naturally give him a competitive edge over other candidates. There are some businesses and investment based immigration streams. These streams are for those foreigners who want to start their business in Quebec or those who want to invest in a business in this region. Currently these programmes are closed. But they can become open in the future. Earlier when these programmes were active there were no eligibility criteria where the candidate had to have proficiency in French.
Then there is a Quebec experience programme which is also very popular. As per this programme graduates of certain educational programmes can apply for Quebec Immigration. Even temporary residents can apply for this programme. Yes but there is one problem. For this programme you will need advanced intermediate level of proficiency in French. But not to worry! You can always take up a course where you can learn the language with ease.
So what is the conclusion!
The residents of Quebec are proud of their language. But that does not mean that all the programmes for immigration to Quebec have criteria of proficiency in the French language. But if you do know the language then you can get a competitive edge over the other candidates in case of some programmes. It will also become a lot easier for you to settle down in the province. You can easily communicate with the people in Quebec and this will make your life easier.
For more inputs contact Kansas Overseas Careers:
If you need any additional information about immigration to Quebec or any other province then you can get in touch with us at Kansas Overseas Careers. We are one of the most prolific Canada immigration consultants in the country. We have years of experience in handling immigration and visa formalities for Canada. We can provide you expert advice and all the guidance that you need to immigrate to Canada.
If you are interested then walk-in to one of our branches or call @ 1800-102-0109 or email us @ info@kansasxpress.com.