Why Do The Immigration Programs Use NOC Codes For Selecting Candidates?
Posted by Admin
Posted on December 21, 2018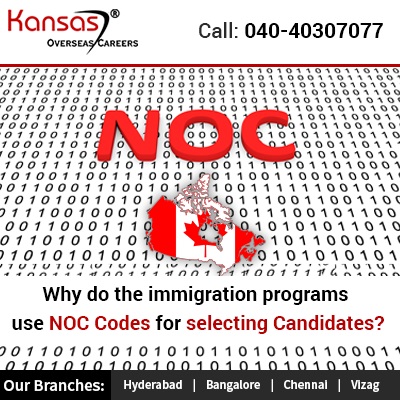 It is important for a candidate aiming Canadian experience to know about the National Occupation Classification (NOC) Codes. The National Occupation Classification assigns a four digit code to every occupation which is listed in the Canadian Labour Market. These NOC codes are the mandatory need for candidates who wish to submit their application for any of the Canadian economic immigration program to get the status of Canada PR.
What are the factors affecting the eligibility of NOC?
To get the right NOC code, the candidates have to provide the documents which can support their documented application. The employment reference letter is one of the important letters which are used for determining the candidate's eligibility. The required fields or factors affecting the candidate's eligibility are:
Candidate's Designation
Candidate's received salary amount
The candidate's employment dates
The Roles and Responsibilities of the employment
How are the NOC codes classified?
The NOC Codes classify the occupations of a candidate based on their employment duties and the work they have pursued.
Classification of NOC Codes:
NOC type 0 – this is mainly for management occupations
NOC type A – this section is considered mainly for university education.
NOC type B – these are the occupations related for a university degree (bachelor's, masters or doctorate) candidate.
NOC type C – these hold the occupations which are required for secondary school and occupation-specific training
NOC type D – these are related to on-the-job training occupations
The Canadian immigration program uses this NOC classification for checking the candidate's ability to meet the required eligibility of their program.  Also, for further classification:
The NOC type 0, A or B are considered for Skilled Employment.
The NOC skill type C or D are considered for migrating Canada through Atlantic Immigration Pilot Program; (or) can work in the country for up to 2 years; (or) can opt a Provincial Nominee Program.
How is Kansas Overseas Careers the best visa agency for Canada Immigration?
Kansas Overseas Careers is one of the top visa agencies with specialized Canada immigration services. The assistance provided by the immigration consultants for Canada immigration is top-rated by huge number of clients.
If you finding the quick immigration ways for Canada Permanent Resident Visa, you can call @ 040-40307077 or fill the free visa assessment form . we will be soon in touch for  assistance.