10 Things To Ask Your Canada Immigration Agent
Posted by Admin 1
Posted on March 20, 2019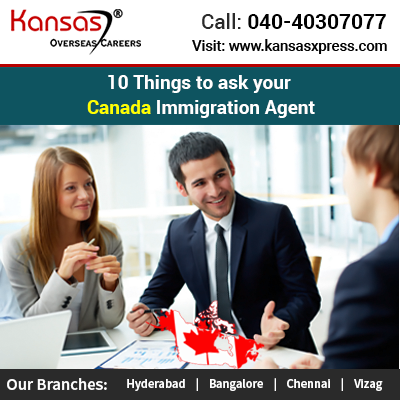 Canada has one of the highest immigration rates in the world. Each year, thousands of Indians apply to Canada immigration programs with the hopes of starting a new life. Canada offers abundant opportunities to study, be employed or to settle down for good. It has a strong economy and provides the best standard of living for those who want to live there. No wonder Canada has emerged as one of the most sought after destinations for Indians who are looking to immigrate.
The Immigration, Refugee, and Citizenship Canada (IRCC) receive a huge number of applications every year for temporary and permanent visas from around the world. Many people apply on their own, while a lot of them seek the help of Canadian immigration agents. If you're looking for hassle-free immigration application process through a consultancy. You must look for a trustworthy one who will give you the result that you are looking for. But how will you find which consultancy is the right one for you? To find out, you must ask some very pertinent question to your prospective Canada Immigration agent.
Here are 10 things that you should ask your Canada Immigration agent before you select them to process your Canada PR Visa application:
1. Check if they are registered
Every country has a licensing system in place to prevent immigrants from being duped by fraudulent immigration agencies. If you deal with a non-registered agent, there is every chance that they will lie to you. When looking for a Canada immigration agent, check if they are ICCRC accredited.
2. Check how easy is it to communicate with them
When you pay someone to help you with your immigration requirements, you should be able to communicate with them often and directly to avoid any communication gaps. This helps you to keep track of your application process at every step. A good consultancy will provide you a dedicated agent who will guide you at every step of the way and explain the entire process in detail. If an agent is making excuses or refusing to provide you with their details, they may not be right immigration consultancy for you.
3. Find out more about their success stories
The best way to find out about the immigration consultant's genuineness and reliability is to ask them about their success stories. A good consultant will ideally display their results and positive feedback on their website. You can also ask them directly about details such as how many visas did they secure in the last year. This will help you get a better idea about how trustworthy an immigration agent is and if you should go with them for your Canada PR visa application.
4. Find out more about their programs
Many consultancies claim that they will help you get a job in Canada if you opt for their immigration program. Do not hesitate to ask them the fine print and details about these schemes and how to cross verify the same. Usually, a good consultancy will also have their associates or experts in the destination country. Find out as much as you can before you commit to any agency as regards to their extra schemes that may seem too lucrative to turn down.
5. Find out more about post-landing service
Several immigration consultants will also claim to offer a lot of post landing services once you have your visa in hand. The services include facilities such as airport drop, accommodation assistance. You can always ask the consultant to furnish references of people who have availed the post-landing services and check the quality of the service offered by them. You can also check online reviews of the consultancy regarding the same.
6. Ask about their experience in immigration
You can judge how good an immigration consultancy is by finding out how long they've been in this industry. Some may be working for over a decade while some might be newer. It is always good to find a company which has experienced staff who can help you with all your Canada PR immigration related queries and show you the best way to apply for your visa.
7. Find out what sets them apart from the rest
These days everything is available online. You can compare several immigration consultants by reading their profiles on their website and find out what each of them has to offer. If you have narrowed down on a few of them, find out what strengths that a particular agent or company has when compared to others in the industry. This will help you decide which immigration consultant to hire for your Canada PR application.
8. Find out what will happen if your application is rejected
 A common promise that most immigration consultancies will offer is the one about refunding your money. Almost every agency will say they will refund your money if your application is rejected. However, you are not hiring an immigration agent to see your application being returned. Find out if the agency knows about the process to file a review for your application or offer any alternatives. A good agency will help you get your visa application ahead.
9. Ask how much they help in documentation
 A big part of your immigration application involves getting your visa documentation right. Ask the agency about what parts of documentation do they help with, such as visa assessment, visa application, document guidance, document submission, visa fee payment assistance etc. Find out if they have any dedicated officers who will guide you through various steps and help make sense of the entire visa documentation.
10. Ask if you can get any references
One of the best ways to choose a Canada immigration consultant is by asking them for any references of their previous client. Find out if they can connect you to their clients so that you can get honest feedback from them. You can also check their online reviews to find out how trustworthy they are.
By asking these questions, you can decide on the right Canada immigration consultant who will help you get Canada Permanent Residence visa without any hassles. Kansas Overseas Careers is a team of leading immigration and visa consultants. Consultants offer professional, authentic and reliable visa processing services to all those who are keen to settle, work or study, not just in Canada, but also in other parts of the world.
You can get in touch with our team by calling toll free on 1800-102-0109 or fill out an inquiry form on our website. Rest assured, our team of experienced immigration consultants and visa case officers will give you the right advice as far as your chances of getting Canada PR visa is concerned. Come visit us to let us help you with a systemic Canada visa process.