Why 2018 is the best time to become a Canadian Permanent Resident?
Posted by Admin
Posted on January 19, 2018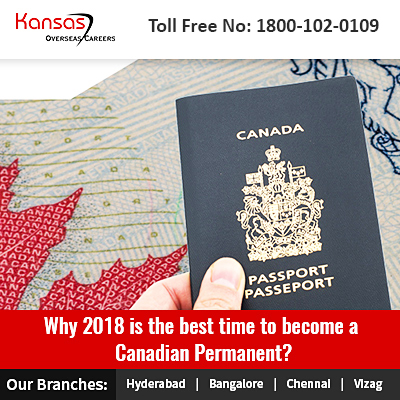 Everyone is hopeful that the start of the New Year will be a start of many fresh and new beginnings. Well, with that being said, you can start your year by applying for Canadian permanent residency; and fulfill your desires to get a new status in an international country. If you are one of those people who planned to get a Canadian visa in the previous year and failed to make it, now is the right time to apply for a Canadian visa again.  This is because the country has announced its fresh target for 2018, which is indeed largest ever in Canadian immigration history. With a growing economy, nearness to nature, cultural diversity, easing immigration policy, there are several other reasons that make 2018 the best time to apply for Canadian permanent residency.
Preferred Choice by Immigrants across the World
The Social Progress Index 2016,  revealed Canada as World's Second Best Country to live Statistics Canada are evident enough to reflect that almost 55% of the world's immigrants prefer Canadian lifestyle and quality of life,  eventually choosing Canada for permanent residency. Furthermore, of the total Canadian population, 21.9% are immigrants and the percentage is expected to increase further.
The Way of Life in Canada
Canada is a peaceful country with the government focusing mainly on social programs and peacekeeping than ascending their military might. In Canada, any Canadian permanent resident can avail healthcare services for free and reap full advantage of free healthcare systems. The government of Canada provides a free public healthcare system for all its permanent residents. Due to such health care benefits, the average life expectancy of Canadians is approximately 78 for men and nearly 82.7 for women.
Growing Economy of the Maple Country
Canada is a growing economy with a stellar economic growth. The records show an economic growth of 3.7 percent in the previous year. Moreover, the job sector in Canada is witnessing a steady growth as the unemployment rate is at an all-time low since four decades. Also, the fact that Canada allows introductions to various bridge training programs & skills programs for Canadian immigrants to understand the culture and provide quality work is another reason that the country is chosen for.
Education through immigration
Education is a major part of any country. Often when people migrate with families, education for children and related facilities are what they examine. Canada in this aspect has set its own example. Not only it offers free education, but according to an updated Government report, dependent children of immigrants benefit most with Canadian education than the children residing in United or Europe. According to Census 2016 Canada, the country has a high number of educated residents living in the country. Free education offered by the country for immigrants is certainly a reason that adds up to why you must choose Canada in 2018.
Canadian Immigration Policy
Off recently the changes in Canadian immigration policy have made Canada an immigrant-friendly country. During the previous years, IRCC (Immigration Refugees and Citizenship Canada) relaxed the rules for immigration by reducing qualifying CRS score with each draw of Express Entry; eventually making it easier for Canadian immigrants to apply for Canadian Permanent Residency Visa. Moreover, the Canadian government is inviting a huge number of immigrants as a part of their Immigration target, which is set for 310,000 new immigrants in 2018. The age limit for accompanying dependent members has been increased to 18 to 22 now.
Looking for a reliable partner for your visa and immigration formalities?
We at Kansas Overseas Careers are your one-stop solution for immigration and visa procedures of different countries like Canada, Australia, Germany and many other countries. We are a trusted immigration consultancy company in India, providing all the services that you may necessitate to travel/settle overseas. At Kansas, Immigration consultants are aware & understand that the documents and official procedures can be something difficult for a common person to handle. Hence, have the best team of experts for your visa filing assistance. We provide all the services associated to visa and immigration.
From free education until Grade 12 to free public healthcare systems which are constantly upgrading, Canada is a welcoming country of 2018; which has opened the doors for immigrants by facilitating easy immigration policies. Reach us or call 18001021009 and enjoy a hassle-free migration.