5 Steps to Take When Applying for a Canadian Permanent Resident Card
Posted by Admin
Posted on October 15, 2018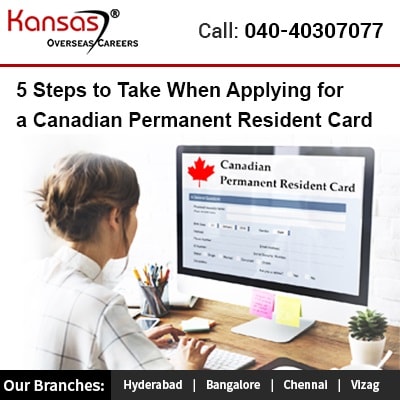 From tech professionals to people fleeing the Trump presidency, Canadian Permanent Resident is booming  and it doesn't show any signs of slowing down.
If you're interested in relocating to Canada and need to apply for a Canadian Immigration. Listed below are five steps you need to follow to make the Canadian  application process as simple as possible.
1. Make Sure you are Eligible
New permanent residents do not need to apply for permanent resident cards. If you provide the Canadian government with your Canadian mailing address, you will receive a permanent resident card when you immigrate.
However, if you didn't receive your card within 180 days of immigrating to Canada, you will need to apply for one.
You will also need to apply for a permanent resident card if any of the following conditions apply:
a. Your card is expired or will expire in nine months or less
b. Your card has been stolen, lost, or destroyed
c. You legally changed your name and need an updated card
Anyone who is immigrating to Canada is eligible for permanent residency, as long as they are physically present in the country for at least 730 days (2 years) out of the last five years, are not under a removal order, and have not been convicted of any offenses related to misuse of the card.
2. Get an Application Package
If you do need to apply for a permanent resident card, you'll need to obtain an application package. You can download application forms and then fill them out.
a. Along with the application, you'll also need to include the following documents:
b. Your old card (or a copy of it) if you're applying for a new one
c. A copy of your passport or travel documents
d. Two photos
e. A copy of the receipt for the $50 processing fee
Make sure you have your photos printed according to the specifications listed in the application.
3. Pay Application Fees
You must pay your application fee online with a credit or debit card. Once it's been paid, you'll need to print out your receipt and include it with your other application documents.
4. Submit Your Application
Before you submit your application, double check it to make sure you've answered all the questions and have attached all the required supporting documents and receipts. You'll also need to check to make sure you've signed everything.
Once you've completed your check, you can send it by mail or courier to the Case Processing Centre.
5. Wait for Processing
Now, all you have to do is wait for the application to get processed. The average processing time is 114 days. If the government approves your application, you'll usually receive your permanent resident card in the mail. In some cases, though, you'll need to pick it up at a government office.
If this is the case, you'll need to bring your passport or other travel documents, along with your original application documents. If you don't pick up your card within 180 days, it will be destroyed and you'll need to apply for a new copy.
If more than six weeks pass (beyond the 114 average processing time) and you still haven't received your card, you'll need to send a solemn declaration to explain the situation and get a new card sent to you.
Need help getting your Canadian Permanent Resident card? If you need more advice on obtaining your Canadian Permanent Resident card, contact us at Kansas Overseas Careers today. Whether you're a skilled professional or a student looking to relocate and study overseas, we're here to help.for more details you can visit our Website: https://www.kansasxpress.com/