Alberta PNP On The Verge Of Filling The Nomination Quota For 2018
Posted by Admin
Posted on October 25, 2018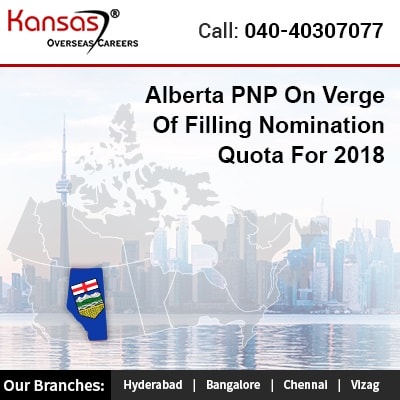 As per the latest figures, Alberta immigration has issued about 72% of its 2018 nomination quota. The Alberta Immigration province states, out of 5,600 federal government allocation about 4,010 nomination certificate are issued.
Presently about 3,300 applications are awaiting for assessment, in other words, most of those who are deemed to be eligible would not be receiving the nomination until the year 2019.
The Alberta Immigrant Nominee Program (AINP) states, apart from the quality of the application, the processing times are greatly impacted by the labour market needs, the number of application received and the date of the application.
The AINP officials overhauled the program for 2018, even though the launch of the changes were delayed from January to June.
On 14th June 2018, the Alberta Opportunity stream and Alberta Express Entry stream became active and they successfully replaced the Employer-Driven Stream as well as Strategic Recruitment stream.
The Alberta PNP has three major streams, Alberta opportunity, Alberta Express Entry and the existing Self Employed Farmer Stream. The Alberta Express Entry stream enables the province to nominate the applicants from the Federal Canada Express Entry system. The applicants should receive the invite to apply before applying.
The stream targets those applicants having strong ties to Alberta and who can help boost the economy as well as increase diversity. The International graduates are also invited.
Requirements To Be Met For  Alberta PNP Opportunity Stream
Should have valid temporary resident status in Canada which would enable them to work.
Must be working in an eligible occupation in Alberta. Most occupations under the National Occupation Classification (NOC) skill levels O, A, B, C, and D are eligible under the AINP.
Post-Graduate work permit holders having approved Alberta Credential from an approved Alberta Institution should be working in their field of study.
Must have minimum Canadian Language Benchmark 4 for entire disciplines in English as well as French for the majority of the NOC codes.
Should have minimum high school education from their nation of origin.
Must meet the annual income level based on the applicant family size.
Should have a valid work permit based on the criteria mentioned in the program.
Should meet the work requirements and should have a bonafide full-time job offer from an Alberta employer to work in your present occupation in Alberta and should be working full time for that employer in the province of Alberta in that specified occupation.
If you are interested to work in Alberta province or any other province in Canada, talk to our Canada immigration consultant they will guide you the right pathway.