How Do I Apply For A Federal Skilled Worker Program To Entitle For A Federal Skilled Worker Visa In Canada?
Posted by Admin
Posted on October 1, 2018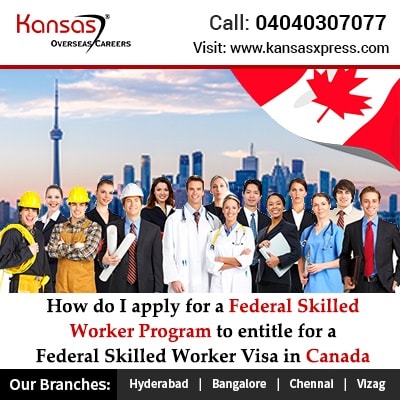 Canada is one of the prominent countries that encourages skilled workers to immigrate to the country. If you are planning to immigrate to Canada, then you can apply for the following Federal Skilled Worker Program below.
The Federal Skilled Worker Program is mainly intended for the preferred candidates who desire to migrate to Canada with their high talent profiles and work experience. Various factors decide to entitle for a Federal Skilled Worker Visa.
If you are qualified in a skilled trade and want to become the permanent resident in Canada, then you can apply for a Federal Skilled Trades Program. At present, the Federal Skilled Trades Program functions through the Express Entry immigration selection system.
Express Entry is the online application system like Federal Skilled Worker Program to process the monetary immigration categories. The Federal Skilled Trades Program applicants need to qualify minimum requirements to entitle for it.
The Eligibility Requirements:
Have an employment offer in hand,
Be eligible to work in Canada,
Once you arrive in Canada, you should show that you have enough funds to provision yourself and your dependents.
In addition to the above criteria, you should have:
A minimum of 1-year (or equal) work experience with a post-secondary certificate, diploma or degree,
Be qualified in language expertise in English or French,
Be prepared to stay outside the province of Quebec.
The Work Experience to entitle for Federal Skilled Worker Visa:
As per the Canadian National Occupational Classification (NOC), your work experience should be either of
Skill Type 0,
Skill Level A,
Skill Level B.
Your work experience should be full-time (at least 30 hours per week) and paid, or equivalent hours part-time and should be worked during the last 10 years to get the benefit of Federal Skilled Worker Visa. However, if you have a permanent employment offer, all these restrictions will not be applicable.
You must have at least 67 points to apply for Federal Skilled Worker Program. However, you can achieve different points depending on your skills. They include:
Your Age,
Your education qualifications,
Your English and/or French proficiency,
Your flexibility and your employment offer in Canada.
However, the Federal Skilled Worker Program point system is different from Express Entry System point calculation.
How can I apply?
You should submit your profile in Express Entry system to entitle for Federal Skilled Worker Program.
If you plan to immigrate to Canada, get in touch with Canada immigrant agents quickly. You can submit your profile to Canada immigrant agents to process your visa application successfully. The Canada immigrant agents can guide you to make your profile get shortlisted.
Kansas Overseas Careers is well-known as competent and certified Canada immigrant agents providing reliable visa processing services. It has widely spread its branches all over the world. To know your eligibility requirements on the Federal Skilled Worker Program, Federal Skilled Worker Visa and Federal Skilled Trades Program requirements, you can contact Kansas Overseas Careers today.