Are students allowed to change between Universities/Programs on Canada study visa?
Posted by Admin
Posted on February 8, 2018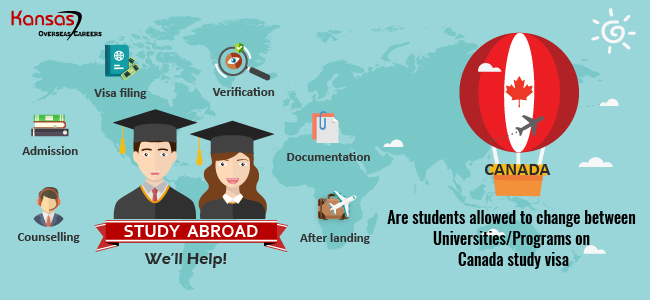 Canada has some very good universities like McGill University, University of British Columbia etc. There are some really very good courses and programs that one can opt-in these universities. There are many factors due to which students prefer to move to Canada  for Canada Study Visa.
Factors those are good for students:
Those who want to study in Canada must note that this is one country which is safe and immigrant friendly. There are a large number of urban areas in Canada, which have Indians. Toronto and Vancouver are some places where you will find the majority of Indians.
Some basic facts about student life in Canada Study Visa :
If you want to study abroad then Canada is one of the best places.(Choose our immigration agent Kansas Overseas Careers for best Canada study visa)  The first thing will be to decide on where you will stay. It is better to opt for accommodation provided by universities as they also have the meal option. The orientation program is very important for the foreign students. So make sure that you do not miss it as you will get acquainted with the university and other students. There are plenty of extra-curricular and co-curricular activities. It is better that student's try and participates in as many events as possible.
Applying for the right course:
The students will require some minimum percentage in their class 12th exam if they want to be eligible for the degree programs. If they have less percentage then they may have to go in for diploma courses. Proper mark sheets and certificates will have to be submitted by the students. Other documents like SOP that is a statement of purpose, references by two professors etc are also to be submitted. Most of the universities will accept online applications.
The steps for the admission procedure:
The student will have to search for the university and zero down on the program for which he wants to apply. He will have to take the entrance exams like SAT, GMAT, GRE, TOEFL, IELTS. He will have to write a statement of purpose and apply for the program. The student will have to give video interviews. Once he is selected by a university the student can apply for the Canada study Visa.
What if you wish to change your university or program?
There are chances that you may land upon a study visa in Canada and they may think of changing the program or the university. The question is whether you are allowed to do this?. It should be noted that if the student is at the post-secondary level then he can change the school or program and you do not need to apply for a new study permit. All that you have to do is apply for the new program. Once you get acceptance from them you must notify IRCC about the same. In case of Quebec for the change in the program, you will have to apply for a CAQ. If the new program for which you have enrolled is going to be of a duration longer than your study permit then you will have to apply for an extension of your study permit. If you want to immigrate to Canada then these are some of the things that you need to keep in mind.
Get in touch with our Visa agents at Kansas Overseas Careers or call 1800-102-0109 or E-mail:info@kansasxpress.com.