Benefits and Requirements of Canada Permanent Residency for Indians in 2019
Posted by Admin 1
Posted on April 25, 2019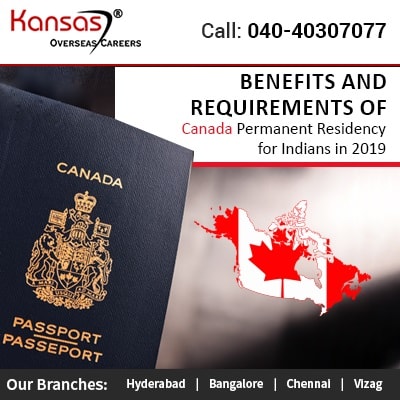 For families, Canada presents a wonderful opportunities to settle down and lead a good life. It is one of the most family-friendly countries in the world and has an immigration policy that has been designed to provide maximum benefit to immigrants moving with families. Their immigration process is very inexpensive when compared to other developed nations and the processing time is also not higher than the rest.
The Indian migrant community in Canada is very strong and their presence can be seen across the country. This makes it easier for families to migrate from India to Canada, as they have people to rely on directly once they move over to the country. From working professionals and respected members of the society, a family will have access to the vast knowledge and experience of this migrant community. They can also help you settle down when you initially move to Canada.
If you're looking to shift to Canada with your family, here are some of the major benefits.
Benefits of Moving to Canada with Family
Canada has become a hub for people looking to immigrate. Thousands of people across the world, especially from India, move to Canada every year. This has led to a consistent expansion of immigration policies and practices of the Canadian government, making it simpler for people to move to Canada with Canada Family visa.
 Here are some of the benefits of moving to Canada with your family:
Canada has one of the highest standards of living among all the first world nations. You can feel the difference right from the time you arrive in the country.
Canada is one of the most immigrant friendly nations. It is a country where people from all walks of life co-exist without any discrimination.
The family sponsorship program for Canada has been designed to allow immigrant families to move to the country as a unit. It shows the Canadian government's commitment to improving the quality of its people.
With diverse education and employment opportunities available at subsidized rates, it is an ideal place to raise children.
It offers education at subsidized rates which makes Canada a dream study destination
Canada has a dynamic Indian immigrant community, which gives Indians moving to Canada a sense of belonging in a foreign land.
These are some of the key benefits that you can enjoy when moving to Canada with your family.
Requirements for Moving to Canada with Family
For people from South-east Asia, families play a huge role in their life. Moving to another country should not mean they have to sacrifice on the valuable time that you spend with your loved ones. A good idea would be to move with them. If you want to enjoy a great lifestyle with exceptional employment opportunities, along with a perfect work-life balance, Canada is a wonderful place to be. The IRCC sets certain requirements if you want to move to Canada with your family.
Here are some of the immigration requirement particulars of family members who might want to migrate with them to Canada.
Spouse: As per the Canadian immigration policy, you can consider someone as your spouse or common-law partner if they have been living with you for at least a year. You need not make a separate application for your partner when you make your own immigration. The IRCC will naturally assume that you are planning to migrate with your partner unless you list yourself as a bachelor. It is important to note that the parameters for selection of couples are different from that of single immigrants and it is important to know about them before applying.
Children: Dependents below the age of 22 years who do not have a spouse can be considered as children, as per the IRCC. They will be eligible for all the benefits due to a child. In certain cases, where the dependent is above the age of 22 years but has some physical or mental disability which inhibits them from working, will also be considered in general application of principal applicant.
Parents or Grandparents: As per the current IRCC regulations, parents and/or grandparents need to make a separate immigration application. They cannot be a part of the original immigration application and must be sponsored separately once the principal applicant has already settled in Canada. These are certain considerations one must keep in mind if you want to sponsor your parents and/or grandparents into Canada:
Provide them with financial aid if they are going to retire for a period between 3 to 10 years.
Parents and/or grandparents must be willing to make all reasonable efforts to support themselves.
Keep in mind that there are certain restrictions that come into play when you want to sponsor your parents and/or grandparents:
You did not abide by the financial support conditions for another relative you sponsored in the past.
You have ever defaulted on a court support order, such as a child support order.
Have ever received benefits/financial support from the Canadian government (except support for a disability)
Have ever been convicted of a violent or sexual offence, or any offence against a relative.
Have ever missed payments, made late payments, or defaulted on an immigration loan.
You are currently in prison.
You are currently declared bankrupt.
These are some of the things you should keep in mind when you want to migrate to Canada with your family and begin a new life there. Achieve your dream by getting in touch with our expert immigration consultants at Kansas Overseas Careers. We can help you move to Canada with your entire family in a timely and cost efficient manner.
Kansas Overseas is one of the leading immigration & visa consultants in India. Our team works to cater professional, authentic and reliable visa processing services to skilled workers of India and abroad, who are keen to settle, work or study in Canada. We are a successful Canada visa company who process visa by the extensive support of experienced immigration consultants, evaluation team, Visa case Officer and Job Marketing Executives. We give a one-stop solution to those looking to visit, study or settle in Canada through a smooth & hassle-free visa process. Get in touch with us as we help you with a systemic Canada visa process.