Best areas of Canada study to get a job faster
Posted by Admin
Posted on May 3, 2018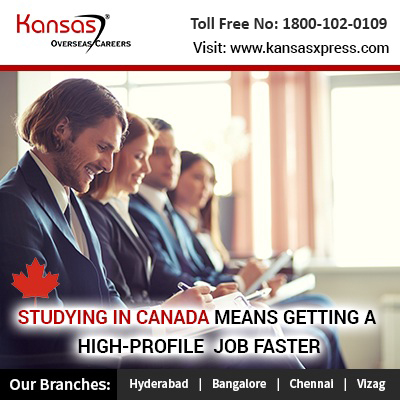 Most students around the world know that Canada is the best place to get a college degree. Use of advanced technology and industry oriented teaching techniques attract many students to Canadian universities. The rich culture, excellent standard of living and attractive employment opportunities make Canada the perfect destination for students seeking a degree or a diploma.
The Canadian education system is among the top 10 international education systems and has one of the lowest tuition fees of any other English speaking countries. Canada has a wide range of universities ranging from all formats of technology and management. The programs offer degrees, technical diplomas, and professional diplomas. All the programs are made in a way that it makes students obtain a job in Canada after their education is complete. Students can apply for permanent residency once they have a job for some time. Most students work during their studies to get a taste of their preferred industry and go full time after the course is complete. Since there are so many people who came to Canada to benefit from the opportunities students should choose a degree with a high percentage of hirings. If you have technical proficiencies, then concentrating on a technical diploma will help your chances of landing a job.
Best Jobs in Canada
Let's take a look at some of the best jobs in Canada, with annual salary estimates;
Public Administration Director – $106,662
Utility Manager -$112,320
Mining and Forestry Manager – $100,006
Real Estate and Financial manager -$103,376
Pharmacist -$102,398
Telecommunication manager -$86,528
Lawyer -$88,524
Corporate sales manager -$85,009
Petroleum and chemical process engineer -$104,000
Software Engineer -$90,001
Aerospace engineer – $89,003
Nurse practitioner – $84,510
Best Degrees with the highest hiring percentage
After graduation, most students are absorbed into local organizations and rarely do they need to shift locations in search of jobs. Some fields hold an advantage over others when it comes to hiring percentages. Here is a list that shows employment rate by field of study
Dentistry, Therapy, and Rehab: 100%
Forestry, Veterinary Medicine- 100%
Medicine Courses: 99%
Nursing: 97.4%
Pharmacy: 97.2%
Computer Sciences: 96.5%
Business and Commerce Degrees: 94.9%
Canadian Universities with high employability rates.
Students from these universities have a better chance of landing jobs right after their course completion
University of Toronto
University of Waterloo
University of British Columbia
University of Montreal
Top International Universities.
Canada's excellent education system has made headlines all around the world. Hence, it may come as no surprise that many Canadian universities also rank among the top international universities. Here are the Best International universities in Canada;
University of Toronto
University of British Columbia
McGill University
University of Montreal
McMaster University
University of Waterloo
Concordia University
University of Alberta
Simon Fraser University
Dalhousie University
Each year, more than 130,000 people come to Study in Canada. Each student must get a study permit approved by the Canadian government to get into collages. Canada also offers to stay back programs for students taking courses of more than a year's duration. The study permits often issued is a temporary resident visa which also indicates their institutions and course. To qualify for a study permit, all candidates must fit eligibility requirements and academic qualifications.
Are you looking to Study in Canada?
Take KOC's free eligibility assessment to find out if you qualify for a study permit. Our education experts and immigration consultants in Hyderabad will guide you through eligibility exams, application processing, university selection and help you out with any problems that you might face while filing an application.