Which are few best cities to visit or reside in Canada & why?
Posted by Admin
Posted on August 7, 2018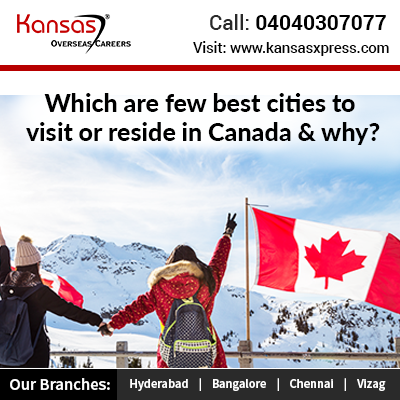 Do you have plans to visit Canada on a temporary work permit? Do you intend to come here with family? You will obviously need a place to stay here isn't it? Here is a guideline of the places where you can stay in Canada with your family.
Ottawa:
This is the capital of the country and it obviously is a good place. This is a place where people many languages are spoken. One of the best things about this place Is that housing is available at affordable rates. The economy is good and this is surely one of the best places to start your new life. This is surely one of the best places to settle in Canada
Toronto:
This is the largest city of Canada. This is one place where you can find plenty of career opportunities. Yes but accommodation cost is higher in this city. There are suburbs where you can find homes at low cost but as compared to other places here the housing prices are higer.
Vancouver:
Do you like luxury lifestyle and have the money to spend for it? Then you can opt for this place. There are many international residents residing in this place. This place is popular among the high income groups.
Hamilton:
This is just outside of Toronto. This is also known as the Steel town. There are many immigrants staying in this place. Overall it is a good place to stay for few years.
Montreal:
This is also one of the Best places to live in Canada. There are plenty of job opportunities in Montreal. This is a multilingual town. People here can speak three to four languages. Most of them know English and French. This is one of the best places for new residents. One of the biggest advantages of this town is that it offers very good healthcare services. As compared to other places in Canada the cost of living is affordable.  Good job opportunities, affordability and overall good surroundings make this a good place to live with family.
Waterloo:
Waterloo has a major university. This is also a good place to live. You will find that there are large number of newcomers in this place. House rent is also pretty affordable in this place. There are number of jobs available in different industries. The unemployment rate is low in this place.
Here are some of the things that you need to consider when you select a place to stay in Canada:
You first need to consider the cost of living of that place. You need to take into account your budget and compare it with the cost of living of that place and then take a call.
Check out the house rent in the city or town. There are some cities in Canada where the house rent is exorbitant while there are some where houses are available at affordable rent.
You must also check out the job opportunities that are available in that area.
It is also better if you can opt for a city or town where there are more immigrants as this will make you feel more comfortable.
If you are confused and are not able to decide then you can take help from reputed Canada immigration consultants who will be able to guide you properly.
If you are interested to start your visa process then walk-in to one of our branches or call @ 04040307077 or mail us @ info@kansaz.com