Canada Aims To Welcome Over 1 Million New Migrants In The Coming Three Years
Posted by Admin
Posted on November 6, 2018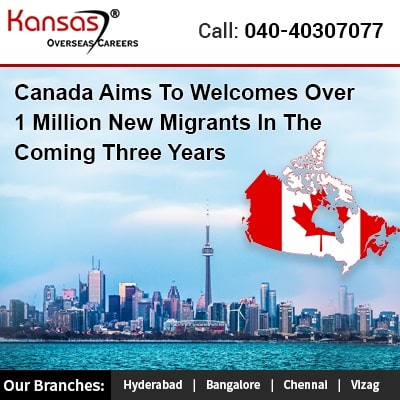 During the last year at the same time, a significant announcement was made by Canada immigration, about its historic three-year plan. After exactly one year, the IRCC has revised its Canada immigration level plan and aims to welcome about 1 million new Canada migrants for the period 2019 to 2021. Its a highest immigration target set in the history of Canada. It is good news for Skilled Workers, who are in search of new opportunities in the maple leaf nation,
The above new immigration levels plan for 2019 to 2021 would successfully replace the three-year plan launched last year. The Canadian government to accomplish the plan, it is committed to increase its yearly admission to 350,000 by 2021, an increase of about 50,000 when compared to last two years.
Over the next three years, the Canada immigration targets would increase each year over the next three years and in the year 2021; it would accommodate a large number of new immigrants with its already set target of 350,000. The revised plan stresses for economic migration with workers contributing to more than half of the new target set. To meet economic goals, more spots are added annually for newcomers migrating under Express Entry and through varied Provincial Nominee Programs of Canada.
For Atlantic Immigration Pilot Program (AIPP), the target goals have almost doubled during the period between 2018 and 2019. It also promises to do the same for the year 2020. Canada has also raised its target under family sponsorship.
What's to expect for the next three years?
On 1st November each year, plans would be reviewed and we can have a better sense of long-term IRCC goals with regards to immigration. By having a higher level of immigration target for the entire board for the year 2019, it reflects Canada's recent immigration goal's success. We find the new plan targets to strengthen this nation's middle-class with the help of economic growth. That's not all; it also aspires to welcome new skilled workers to nation's industries. The economic immigration pathways under Express Entry would consistently grow in size in the coming three years.
Do you wish to know whether you can apply for any of the programs of Canada immigration, do not delay and talk with our Canada visa agents. you can call our Toll-Free No:1800-102-0109 or E-Mail:info@kansasxpress.com.