Canada- A dream destination for skilled professionals
Posted by Admin
Posted on July 21, 2018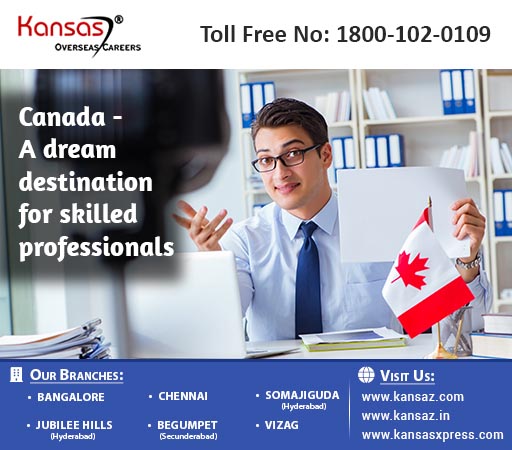 Every skilled professionals has a dream to have a great career. One country which can fulfil this dream is Canada. This is one country which gives its residents best quality of life. It has a stable economy and plenty of good job opportunities for the right candidate. One more reason that immigrants prefer to migrate to this country is its immigrant friendly policies. People want to migrate to Canada as it is a safe country where one can settle down with family.
Immigration formalities for skilled workers:
Canada wants more number of skilled professionals who can make significant contribution to the economy of the country to come to Canada. The Federal Skilled worker visa category is specially designed for skilled workers. This visa category is based on the point based system which is called as the Express entry system.
For Canada immigration the skilled professionals will first have to create an express entry profile which will contain all the details about the skilled worker. The candidate will earn points which are based on different factors. These factors are age, education qualification, experience, skills etc. Based on the total number of points the candidate will be given ranking. The candidate with more number of points will have better ranking. The candidate must try and earn as many points as possible so that he gets a better ranking. There is an express entry draw. There is a particular points cut off for this draw. The candidates who are selected from this draw will get an invitation to apply for permanent resident visa for Canada. The selected candidates need to submit the application along with all the required documents within a certain time frame.
Visa and immigration services will make things simpler:
The Express entry system is a fast way for the skilled workers to get invitation to apply for the permanent resident visa. But sometimes the candidates can find the procedure a little confusing. To avoid confusion one must hire reputed immigration consultants like Kansas Overseas Careers.
Why opt for services of Kansas Overseas Careers:
We are one of the most reputed names in visa and immigration industry. We have one of the best team of experts who can provide the best services and guidance. We have helped a large number of candidates in applying for Canada visa in different visa categories. Our Canada visa consultants will first assess your profile and will give you an honest opinion about your chances to get the visa. We will also provide input and tips which will help the candidate better his chances of getting the visa for Canada. We have immigration specialist which deal specifically in Canada immigration. They are well versed with all the minute details about immigration to Canada.
If you too wish to move to Canada then opt for our services. Keep in mind that even a small mistake in your application can lead to rejection of your visa application. You will then have to go through the frustrating procedure of reapplying for the visa. To avoid these hassles consult us. Consult our best immigration consultants to start your visa process.