Canada Express Entry: A Benefitting tool for Professionals & Employers
Posted by Admin
Posted on April 24, 2018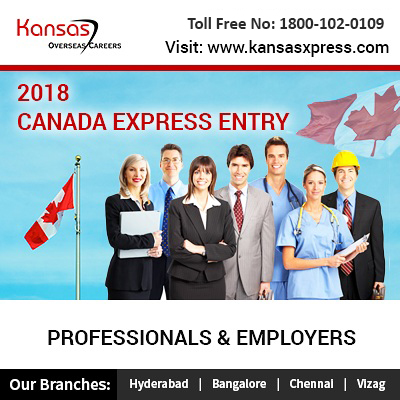 The Canada Express Entry is an electronic process which involves the federal government, provincial government, and employees of Canada. This process helps well for the employers to choose candidates for their required fields.
Canada Express Entry serves well for:
Professionals to immigrate
Employers to hire skilled candidates
Canada Express Entry for Professionals:
Professionals seeking for a permanent residency status of Canada can apply for their visas through Express Entry System.  It is a system used by Immigration Refugees Citizenship Canada (IRCC) to select high skilled professionals for Canadian PR status. It is points based system and has several programs involved. They are:
Federal Skilled Worker Program
Federal Skilled Trades Program
Provincial Nominee Program
Canadian Experience Class
First, candidates need to check their eligibility to apply through Express Entry. Reaching the eligibility criteria for any of the federal program is most important as it is the first step towards Express Entry.  Candidates need to demonstrate their skills, qualification, work experience and related skills to be eligible. Counting these parameters, points are calculated under Canada's points based immigration grid. To be eligible, a candidate needs to score min 67 out of 100 points on this grid.
Eligible candidates then express their interest by creating an online profile called Expression of Interest (EOI). The profiles are allotted with a Comprehensive Ranking Score based on several factors. Then, they are placed in a pool and judged against each other based on their Comprehensive Ranking Score. Though it isn't mandatory getting registered in Canada's Job Bank, it helps employers to view profiles from the pool and connect to the candidates.
IRCC conducts draws at regular intervals to pick best candidates from the pool. A cut-off score is predetermined during each draw and applications that reach the cut-off score and picked up during the draw. Applications that are picked up are issued with an Invitation to Apply. This means they have all that the country is looking for at the specific time and invite them to become permanent residents. Candidates in the pool with highest CRS ranking, valid job offer and nomination from province have highest chance of quick invitation.
 Candidates who have received this invitation to apply (ITA) then have a time of 90days to submit their final visa application. Along with their final application, they need to pay visa fee, PR visa, submit medicals and PCC.  On completion of the process and receipt of their visa, they are landed in Canada as a permanent resident. They can migrate individually or with their families.
Candidates who haven't received the invitation will have their application active in the pool for 12 months and can hope to get picked up anytime during the draws conducted during this validity period.
Professionals this way get an easy option of migrating to Canada just on the basis of their skills, education and without a need of any job offer.
Canada Express Entry for Employers:
To reach the needs of Canadian Labour Market, the government has provided a benefit to Canadian employers to select candidates from Express Entry pool. Employers can view a candidate's online profile in Canada's job bank and select based on their requirements. Selected candidates are confirmed with a job offer, which eventually gets them rewarded with extra points (50-200 depending upon occupation). These points increase their CRS and give them a way to get a faster ITA. Similar process with 90 days timeframe to submit documents is followed thereafter. And, then they are allowed legally to land into Canada, individually or along with family.
By this Canada Express Entry process, both skilled professionals and Canadian employers are benefitted on an equal basis.
If you are skilled professional who wants to settle in Canada through this easy-migration system, consult an expert of Kansas Overseas Careers today! Get complete process information and eligibility check within 3-4 hours.