Canada Immigration-Benefits Enjoyed By Canadian Citizens
Posted by Admin
Posted on November 22, 2018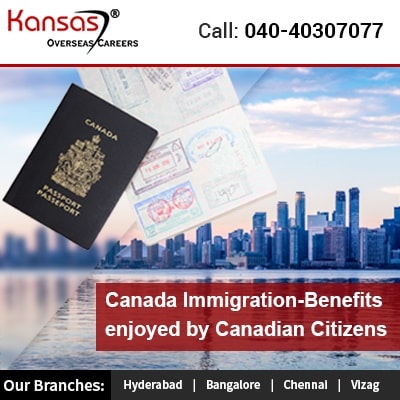 Fascinated with the Canadian Citizenship!! Canada is the popular nation with esteemed developments and opportunities for its immigrants and citizens. Also, it is the immigrant-friendly nation providing many benefits to their immigrants. However, they are even offered to be Canadian Citizen by spending a minimum of three years as Canadian Permanent Residents. Canadian Citizens: They are associated with many benefits, which include free Healthcare checkups; free Education, the best standard of living, etc. But, the most crucial aspect of Canadian Citizenship offered by Canada immigration law is to provide visa-free access to numerous nations. Canada Passport is recorded as the World's 3rd best passport.
How can I get my eligibility for Canada Citizenship?
Express Entry is the electronic process introduced by the IRCC and CIC for interacting skilled professionals to Canada. The system is based on point system and hence candidates need to gain a minimum 67 points for eligibility. The points are calculated based on the core human factors such as age, education, work experience, language proficiency & more. The eligible candidates are then placed into the Express Entry pool based on their Comprehensive Ranking System (CRS) score.
Here, candidates receive an Invitation to Apply for Canada, if their score has been picked up within the Express Entry Draw. The ITA helps in lodging an application and further for availing the visa grant for Canada PR.
Now, to gain the citizenship, the candidate has to serve minimum three years as Canadian Permanent Resident. Canadian Citizenship is no less than the complete package for individuals who wish to have a better lifestyle and a living coupled with different amenities of life.
What is the significance of Canada Passport?
As per the Passport Index (2018, Global Passport Power Rank), Canada holds 3rd rank along with well-established nations such as Belgium, Switzerland, Japan, Greece, Austria, Portugal, United Kingdom and Ireland. The ranking system algorithm explains as to how many countries a citizen can visit visa-free.
Why is Canadian Citizenship better than Canada PR?
Exclusive benefits enjoyed by the Canadian Citizens include
It provides a hub of world-class benefits with regards to healthcare along with improved infrastructure.
The crime rate is low and the quality of living makes it an ideal destination for immigration.
Ample opportunities are offered for investment, business and employment in flourishing industries such as IT, Aerospace, Real Estate, Automobile manufacturing and Hospitality.
Candidate can also enjoy various social benefits which include insurance benefits, guaranteed income supplement, Old Age Security, Canada Pension Plan and for children, funded free schooling.
Are you interested in Canada Immigration with a long-term dream to obtain Canada citizenship? Talk to our  Canada visa consultants; they will offer you the best guidance about the Canada Immigration process or Email:info@kansasxpress.com.