Canada Immigration Myths on re-application of Permanent Residency
Posted by Admin
Posted on June 7, 2018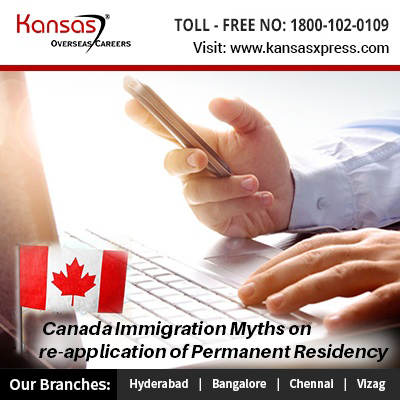 Many people feel that they cannot apply for the Canada immigration Myths once their resident status has elapsed. But this is absolutely untrue. You can apply for the PR status of Canada even when your temporary resident status has expired.
Understanding the meaning of status:
Status means that you can legally reside in Canada. You can either be a permanent resident or you can be on a temporary visa. Work permits, study permits etc are temporary visas. You cannot live in Canada once your temporary visa expires. If you do want to continue staying in Canada Immigration Myths then apply for the restoration of your permit. The application has to be submitted within 90 days of expiry of the visa. Keep in mind that if it is more than 90 days then you do not have many options of staying in the country.
Opting for sponsorship:
Spousal sponsorship is one more way of applying for the permanent resident visa. But for that the applicant's spouse has to be Canadian. The applicant will also have to prove to the officials that their relationship is real.
Applying for permanent residency under express entry:
Temporary foreign workers and students also apply under the express entry pool. When the temporary visa of these applicants expires their ranking in the system may go down. But they still have a chance to get an invitation to apply for the visa. Make sure that you apply for restoration within 90 days. Also make sure that you adhere to all the rules and regulations like leaving the country if your application is honored in order to avoid any problems.
Out of status in another country:
Being out of status in another country will not affect your Canada permanent resident application. But it can have implications on the application that you make for temporary residence. It must be noted that the IRCC will check if the candidate is willing to leave the country once the status expires. If the officials feel that you will overstay in Canada even after the temporary residence status has expired then there are bright chances that your application will get rejected. But when you apply for permanent resident status then you need to prove to the officials that you have no intentions of leaving Canada in the near future. In such cases the chances are that your application for the permanent resident status will get accepted. But if you have criminal records or if the officials feel that you can be a potential threat to their country then they will obviously reject your application.
Consult a good visa and immigration consultant for more details:
There are different ways of reapplying for a permanent or temporary resident status for Canada. The most important thing is that you should show willingness to comply with the rules and regulations. You must not have any criminal background. It may not be possible for a layperson to know the different options of reapplying. One of the best things that you can do is consult a good visa and immigration expert. This expert will give you details about the different available options for re-applying for your permanent residency in Canada. They will also give you valuable tips that will help you take the right decisions and choose the correct option for reapplying for the visa