How to apply for Canada Permanent Residency without errors?
Posted by Admin 1
Posted on March 12, 2019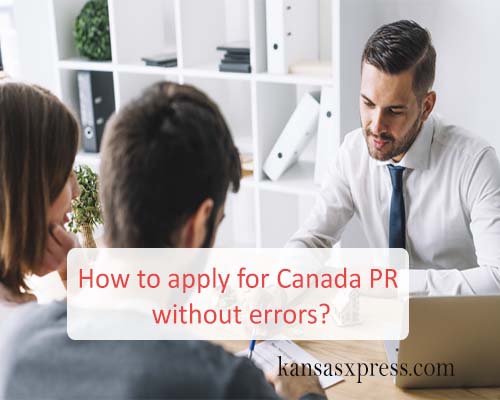 Canada with its great economy is increasing the count of immigrant's every year. Permanent residency is the most successful status which enables the holder with many privileges. Also, this has raised the interest to apply for Canada Permanent Residency in many skilled candidates. But, did you know, there are instances where a qualified candidate is even termed for rejection. The reason behind this is due to false or improper application submission.
What are immigration programs for Canada PR?
There are several immigration programs for Canada permanent residency. The Express Entry System holds the significant programs for Canada PR. Express Entry is an electronic platform based on point system. It holds the three federal programs for Canada PR.
The economic immigration programs which help in obtaining Canada PR are:
Federal Skilled Worker Program (FSWP)
Federal Skilled Trade Program (FSTP)
Canadian Experience Class (CEC)
Provincial Nominee Programs (PNP)
Family Sponsorship Program, etc.
Are the immigration programs similar to each other?
The immigration programs are not similar to each other. Each program has different requirements and criteria to apply and process. Among the entire stages of immigration, the documentation is the significant step, where a candidate can make mistakes in submitting required documents.
Documentation is an important process of immigration. Any mistake done in this stage can obstruct an immigration process.
What are the mistakes which have to be avoided during Canada Permanent Residency process?
The mistakes which have to be avoided during  during Canada Permanent Residency process are:
Avoid improper submission of signatures, as these can lead your application to risk.
Incorrect fee payment for the selected program can even create drawbacks for your application.
Do not upload photos with wrong dimensions. Always follow the guidelines of the Immigration, Refugees and Citizenship Canada (IRCC).
Carry all documents to support your immigration process. Any late submission in the documents can make your immigration process face difficulty.
Avoid submitting hand-written applications. Since the Adobe Reader is the software used to read applications. Illegibly written submissions can cause your application to face issues.
Applications have to be provided with a valid cover letter. Missing a cover letter in a form can create problems in the process.
There are even many other reasons, which can contribute to the application rejection. But, by following the immigration process under the guidance of an immigration consultant can avoid the chances of mistake.
How is Kansas benefit able for my Canada PR process?
Kansas Overseas Careers is one of the exclusive immigration consultancies in Hyderabad with top immigration consultants. The services they provide are ranked top by huge immigration clients. Also, the free visa assessment which is provided by their consultants provides a great scope for their immigrants to settle in abroad.
To get started with the Canada immigration services from the immigration consultants in Hyderabad, speak to their expert immigration consultants. Call on this Toll Free No: 1800-102-0109 or E-mail:info@kansasxpress.com.