Canada- The Most Welcoming Destinations of 2018
Posted by Admin
Posted on September 19, 2018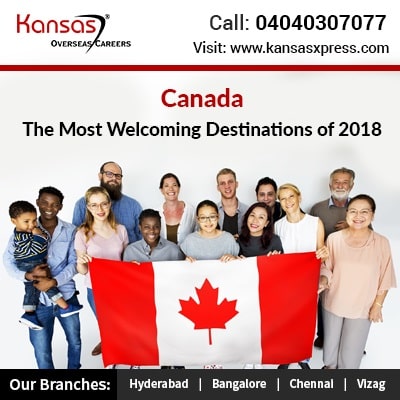 When a person decides to relocate to a foreign country one of the major concerns is acceptance by the local people. It is very important that the person is welcomed with open arms. It then becomes easier for the immigrant to adjust to the new environment. The immigrant will also then be less worried about personal safety in a foreign land.
Canada an immigrant-friendly country!
Gallup study studied around 140 countries. It was found that Iceland, New Zealand, Rwanda and Canada had an immigrant-friendly attitude. They locals were asked questions like what they felt about immigrants, there were also questions about what they thought about marriage between locals and immigrants etc.
The level of acceptance will depend on a number of things. The education background of the people, their religious background, income, jobs, age etc. Normally those who belonged to the younger age group had better education and jobs were more open to the idea of more number of foreigners getting Canada PR.
There was another independent survey called as the Focus Canada Survey which was also carried out to determine the attitude of Canadians towards immigrants. According to this survey, 80% of Canadians were of the opinion that immigration was good. They felt that immigration was having a good impact on Canada. Quebec and Western Canada were more positive about immigration. According to the World happiness report when it comes to happiness of the immigrants Canada ranks 7th in the World.
Do you want to come to Canada? This is what you must do!
There are a number of different visa categories, which is mainly to encourage greater number of foreigners to come to Canada. If you too are keen to become a permanent resident of Canada or want to come here on a work permit then you first need to check the eligibility factors. You need to check if you have the required educational qualification, skills, work experience etc. There are number of good prospects for skilled workers with the right qualification and work experience and skills.
Skilled professionals can opt for Canada Express Entry programme which is one of the fastest ways to move to Canada. This is a point based system where the candidate has to score points based on a number of factors. Better points will get the candidate better rankings and this will increase the candidate's chances to receive the invitation to apply for the PR visa. It must be noted that last year Indians received maximum invitations to apply. They surpassed countries like China and UK.
For more details consult an immigration consultant:
The time is right to move to Canada. Especially if you have the right skills and degree then you will surely get the best opportunities in Canada, but for this you need to know the exact procedure to move to Canada. It is always better to get in touch with reputed Canada Immigration Agents, who have complete knowledge about the formalities to migrate to Canada.