Immigrants with Canadian degree make more money-confirms a survey
Posted by Admin
Posted on January 11, 2018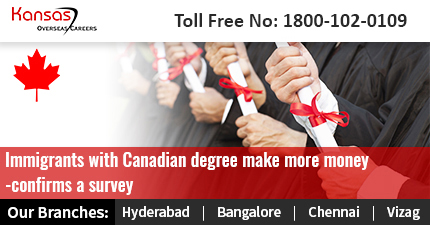 Authorities of Canada immigration department conducted a survey during August 2017. Through the calculated statistics of this survey, it has been concluded that candidates with a Canadian degree were at a higher advantage than those who were not. It was found that they were earning more money than the ones who did not have any Canadian study background. Many students stayed back in Canada on an extended work permit and gained experience. Both taken into account were regarded highly by employers. Such candidates become the first choice for employment and were offered permanent residency options.
While Canadian education added a good score to an applicant's profile, his adaptability factors increased his chances for a prioritized selection. The fact that the applicant has lived in Canada for a long time is accepted by the Canadian government and has a good network in the Maple city keeps him at a benefit for quicker permanent residency. Such candidates are also the first preference for nomination by various provinces. Get the complete assistance and information from visa agents to make your visa process.
Through this statistics report, we can also find several programs that helped students apply for a permanent residency after their education (and work) and take up high-paying opportunities.
Options to stay in Canada after study
Post-Graduate Work Permit: This program is exclusively for candidates who wish to study post graduation in Canada and simultaneously gain Canadian work experience. Students who have studied full-time in Canada (in a course that is more than eight months) at a recognized University are eligible to stay back in Canada on this permit. This permit is usually valid for two to three years. Immigration consultants can help you to check your eligibility.
Canadian Experience Class: This is most beneficial programs of Express Entry for international graduates. This program gives high value to the Canadian degree and work experience gained in the country. After graduating from the any reputed the University of Canada, one can apply for a PGWP or a work permit and stay back in the country. After gaining a successful work experience for permanent residency, through CEC program, a respective candidate can process his application and become a permanent resident. Candidates in the Canadian Experience Class program have the best scope of employment in reputed companies that are seeking traits of well Canadian adaptability.
Provincial Nomination Programs: Studying in a province and staying back for long-term with bright opportunities is something every migrant student desires of. Canadian provinces too are focusing on retaining students and building prospects. Many provinces have introduced schemes and streams aligned with their Provincial Nomination Programs that prove a pathway for international students. They are offering international students to immediately apply for permanent residency after their education. A recent innovation in this regard is the International Education Stream by Manitoba. Through this scheme, STEM students can stay back in the country on PR after their education.
Expert consultation is the one way a student can know and analyze his scope for Canadian PR after his education. Since student visa counselors or immigration agents know the trends of the respective current and the job market, they will guide you in selecting a right program that will help you in long term. To know the right direction of an overseas career, consult India's most trusted Canada Visa consultants, Kansas Overseas Careers. Register here for free counseling or call 08030010515.