Free Education in Canada- how's it working for immigrant children?
Posted by Admin
Posted on April 16, 2018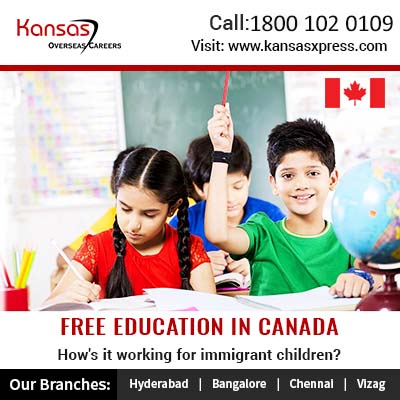 Canada is a safe country for women and children. This is the reason that many people prefer to move to Canada along with their families.  Naturally, the children of these immigrants have to study in the Canadian schools. The overall atmosphere and the teaching pattern will obviously be different from what these immigrant children may have seen back home.education in Canada is best for immigrant children.
Education in Canada & immigrant children:
Immigrant children normally face lots of problems in schools. They have to adjust to the new country. They normally have a low socioeconomic status as compared to the natives. If they are refugees then some of them have a traumatic past. All this makes things really difficult and these children find it difficult to cope up with the situation. Almost 30% of the children in the Canadian schools are immigrants or one of the parents is born in another country.
However, Canada has been found to be very successful in educating immigrants. In a short span of three years the public schools make sure that the immigrant children perform at par to the native Canadian children.
Analysing the reasons behind Canada's success:
It is really an encouraging thing to see the success rate that Canada has in educating immigrant children. One of the main reasons for their success is that they carefully pick only the best-skilled workers to migrate to Canada. They only opt for those people who can make a significant contribution towards the economic development of the country. Canada also believes in keeping families together. This is very clear from their immigration policies. Canada is an immigrant-friendly country. Most people in Canada understand that immigration is of importance for the growth and development of the country.
According to reports the immigrant children in Canada do much better as compared to the immigrant children in the US. According to some people this is irrespective of the socio-economic status of the children. Immigrant children in Canada with a poor socio-economic status do much better as compared to well to do immigrant children in the US.
Comparison between different provinces of Canada:
If you were to compare the performances of students of different provinces then you will find that there is a difference. Take the example of Ontario. You will find that immigrant English learning children do not fare well in reading and maths as compared to the native English speaking children. However it has been found that these students eventually do better. Many of them also pursue advanced courses in Canada.
This is what happens in the Canada Public school:
The English learning children are put in regular classes. But they are provided one-on-one language instruction. The Canadian schools are very considerate and kind towards refuge children. Those refugee children who have missed out school for months or even years are put in a special programme called Literacy Enrichment Academic Program, or LEAP. This programme tries to help the children catch up with tow academic years in one year. This is done so that they can become part of the mainstream classes in three years. The teachers make use of props and explain difficult terms properly.
There is intentional integration in the school. English learning students are made to take part in all the activities like reading and morning announcements etc. Teachers also try to learn few words of the language that these English learning children speak. All languages are treated as equal. The quality of teachers is excellent. The teachers are selected after a rigorous selection process.
Want more details to contact Kansas Overseas Careers:
If you want more details about the Canadian education system and schools then contact us at Kansas Overseas Careers. Our expert counsellors will make sure that they answer all the queries that you have about education in Canada.
The education system of Canada is a clear reflection that this is an immigrant-friendly country. For more information contact our consultant @ www.kansasxpress.com or Call Us @ 18001020109