Significance of Educational Credential Assessment in Canada Immigration
Posted by Admin
Posted on January 12, 2018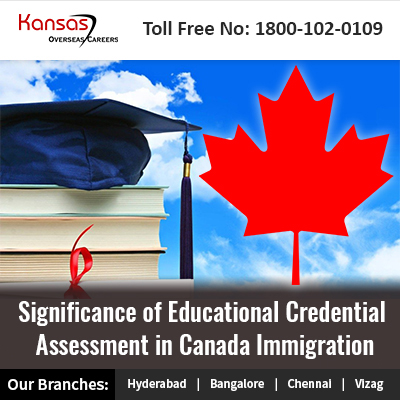 You have evaluated your chances for Canada immigration and get to know that your education and experience is eligible for the process. That's good news. But, do you really know whether your education meets the Canadian requirement standards? Do you the level of education you have is equivalent to any education of Canada. Since this is a mandatory element of immigration, you ought to this; but how!
The Educational Credential Assessment is a method proposed by Canada for one to access his education before migrating to Canada. Through the Educational Credential Assessment, you or applicants like you can compare your education with highest standards of Canadian education. Firstly, you can validate degrees, diplomas, certificates or any other academic achievements through ECA. You can then also analyze whether your educational credentials or achievements are same as Canadian counterparts.
Who needs an Educational Credential Assessment?
Candidates applying for a PR visa through the prominent programs of Express Entry- Federal Skilled Worker Program & Federal Trades Visa program must get their education assessed through ECA. If you have a spouse or partner accompanying your immigration, in several cases he or she may also be asked to go for an ECA. However, if you have a Canadian education or a prior work experience to show from Canada, you may not have to go for an Educational Credential Assessment. Likewise, if you are applying for CEC program or PR under AIPP, you may not need an Educational Credential Assessment.
Who conducts Educational Credential Assessment?
Different IRCC approved organizations conduct the ECA for Canada. For instance, if you represent a medical background, you may be directed to Medical Council of Canada for ECA. Likewise, there are other organizations too.  The World Education Services is a widely and commonly opted body for ECA Canada. After you check your eligibility for Canada immigration and successfully score 67 points under the immigration point's grid, you are supposed to file an application for your ECA. This application along WES fee (or fee of the applicable organization) and relevant education documents are to be submitted to the World Education Services. The authorities take a time of approximately 30 days to conduct ECA and release the report.
It is important to note here that for ECA, providing authentic documents and the upright information is mandatory. In case you provide false information or fraudulent documents of your education, immigration officers may reject your application immediately.
Done with Educational Credential Assessment- What now?
After you receive your Educational Credential Assessment from the designated organization, you will get an insight into the following aspects:
You will be able to understand the validity of your education credentials
You will get to know that your academic achievements equate to Canadian standards
You will be able to add your credentials for points in your EE profile
After ECA, you can create a profile with Express Entry pool and carry out all the paperwork formalities required for the process. If you are unaware of the process of Canada immigration, it is highly recommended to consult a Canada immigration expert for right guidance.
Kansas Overseas Careers has a team of India's best qualified Canada Immigration consultants. With a success record of over lakh counseling and thousands of successful Canada visas, we are here to help you in any guidance you may require for the process. Whether you want information to start your process or assistance to check your eligibility, consult us for free or call 180010201099.