Express Entry Process- Words by our happy Client
Posted by Admin
Posted on March 30, 2018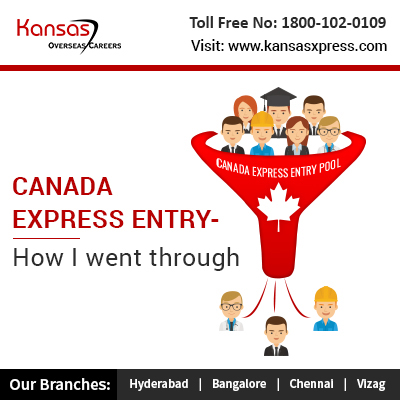 I am a skilled professional with a degree in engineering. I also have the required work experience. So, I decided to apply under the Canada Express Entry programme. But when I went through the details on the internet I was perplexed and lost. Yes, it was not all that easy. I realized that I had to take professional help and that is when I decided to approach Kansas Overseas Careers (KOC)
Proper explanation by KOC consultants:
The best thing about the KOC consultants is their systematic approach. They first explained to me the details about the express entry system. They told me that this is the Federal System of Canada, which manages economic immigration applications. The basic aim of this system is to get skilled professionals in Canada who can contribute towards the economic development of Canada. It has three programmes and they are Federal Skilled Worker (FSW), Canadian Experience Class (CEC) and Federal Skilled Trades (FST). There are regular Express Entry draws for selecting the best candidates.
Provision of guidelines:
KOC explained all the eligibility details and they told me to first create an express entry profile. Here I had to list down my personal and professional details. Then the consultants at KOC told me how I can score points in different factors. They also gave me tips to score more points so that my chances of getting selected would be better.
Tips to score more!
KOC consultants gave me valuable tips to score more. They told me that there were fixed points for age etc. But in factors like language proficiency, I could score more points. Luckily I know both English and French. This gave me an added advantage and gave a real boost to my scores and helped me get better rankings. I already had five years of experience. KOC told me that with one more year I could get really good points in the experience criteria as well.
Documentation details:
I wanted to get the Canada PR visa and wanted to settle down in Canada. KOC told me about the visa programme that I must select. They also told me about the documents that I will have to submit along with the visa application. They also told me that I must recheck all my documents before submitting. They personally checked my application and all the documents. Finally, I got an invitation to apply for the visa. I had to submit my application within 60 days. Thanks to the support and guidance of KOC all my documents were ready beforehand and I could easily apply for the permanent resident visa within the stipulated time.  A friend of mine too had received an invitation to apply. But unfortunately, he did not have all his documents ready. As a result, the 60 days period got over and his invitation was cancelled. He has again applied for the express entry system.
Consult Kansas Overseas Careers for more details:
If you ask me who is the best Canada immigration consultants, then I will say that it is definitely Kansas Overseas Careers. If today I have a permanent resident visa for Canada then it is only because of them. They are the best. If I had tried doing things on my own I am sure I would have still be struggling to get the invitation to apply for the visa.
We thank our client for sharing this experience. If you too want to experience  hassle free and guided  immigration to Canada, we are always here to help. Consult our Expert or call 08030010515 and know how we can assist you in your Express Entry process.