Find The Top Provincial Nominee Programs for Easy PR Process
Posted by Admin
Posted on November 26, 2018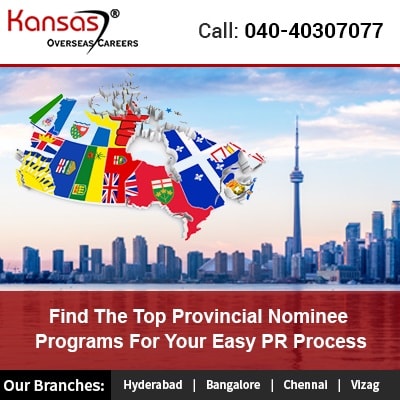 Provincial Nominee Programs are one of the economic immigration programs of the Express Entry System. Provincial Nominee Programs or the PNPs have been a great asset to avail a permanent residency status. Also, it is a good option to candidates with low Comprehensive Ranking System score.
Provincial Nominee Program have multiple provincial programs involved. The provinces of Canada participate within the PNP programs to overcome their aged workforce or skilled shortage. Candidates matching the skill requirement, receive a nomination certificate to support their Canada Permanent Residency immigration.
Also, candidates who receive a nomination avail an additional 600 points towards their CRS score. This score helps the candidates to gain an Invitation to Apply (ITA) through the frequent draws conducted by the CIC. There are various PNP systems working well in providing opportunities, among them the best Canada PNP programs are:
Saskatchewan Immigrants Nominee Program (SINP): The province named Saskatchewan holds this PNP program. It is the most successful program providing a range of opportunities. The program has two best streams included under the Express Entry; namely: occupation in demand stream and Express Entry Stream. It is the program accepting candidates without an employment offer for applying to Canada PR. Also, the most interesting factor is, it is the province accepting candidates even a lower CLB of 4.
Ontario Immigrant Nominee Program (OINP): Ontario City is the capital of Canada; having as many as beautiful scenes and atmosphere all around. Even this is a large popular immigration program by the applicants.
Nova Scotia Nominee Program: This PNP program provides Canada Permanent Residency opportunities to skilled professionals planning to settle in Canada. The most successful category of this PNP is the Nova Scotia Demand- Express Entry Stream. The candidates who receive a nomination from this stream, are also benefitted with an additional 600 CRS points.
Alberta Immigrant Nominee Program: This program has been recently re-modified for framing new changes to it. The streams lined up with this program have become the most successful within a shorter timeframe. The interested applicants planning for Canada PR through this program can apply through AINP-Express Entry Stream.
British Columbia Provincial Nominee Program: The program has an Express Entry BC-Skilled Worker Category, which helps the applicants with the aim to settle as Canada PR by providing an ITA. Candidates are benefitted with 600 points towards CRS score.
Hence, if you are aiming to get settled in Canada having a specific choice of the province, then, you can opt for the Canadian Provincial Nominee Programs.
To know more about the PNP programs, make a call to our Canada immigration consultants; call on this no. 040-40307077 or fill the free visa assessment form