FSW Canada Visa has become the best alternative for H-1B US visa
Posted by Admin
Posted on June 5, 2018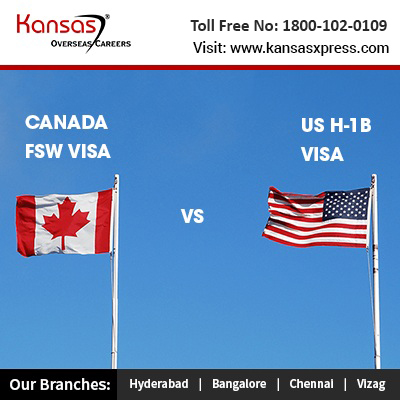 With the increasing complexities and procedures associated with the H1-B visa, most immigrants are looking into better and faster alternatives. This coupled with the latest governments plans to regulate the number of visas has led many to look up to the Federal skilled worker's program of Canada as a good alternative. The countries are much of the same as well and one added advantage is that Canada has a more structured educational system and world-class healthcare facilities.
Canada is also welcoming of immigrants for skilled jobs in are in requirement. Because of its lenient policies towards migrants and also its great standard of living, most Indians aspiring to get an HI-B visa is changing their minds
What is the Federal Skilled Worker program?
The FSW program is aimed at bringing in skilled workers to Canada and give them a better chance of securing a Permanent residency. Like every other Canadian immigration program, it uses a point based system to select the best applicants.
Unlike the H1-B visa application, the FSW Canada visa application is very simple and easy. If you have the right documentation and work experience and a good score in the language tests. Chances are, that you will most probably quality.
The Benefits of Having an FSW Canada Visa
No separate work permit is required, which means you do not need to update your work permit if you change your employers.
You can work anywhere within the country with no restrictions in the selection of provinces.
You can apply for citizenship right after you complete three years of stay in Canada.
You do not need a specific job offer to get yourself selected, you just need to prove that you have the skills and the experience.
You will get full access to the domestic job market, unlike restricted visas which allow you to work on specific jobs only.
With a Federal Skilled Worker visa you will not have any company-specific conditions to work.
The point system for FSW
Education
Ever since the points system was implemented, education was given top priority and it is evident with people with a master's degree or has completed 17 years of full-time study will be allotted maximum points. A bachelor's degree would grant you the second most points and if you only have a high school graduation to your name you will awarded the least points.
Language Proficiency
Unlike the H1-B visa, if you have fairly high IELTS score you will have an advantage from other applicants. Since this is a point based system unlike the H1-B system, if you have a greater score in IELTS you will get more points.
Work Experience
With work experience, the more you have the more points you will get. Your job should qualify for a listed skill level and you will have to be between the age 21 and 49. Your age is also a factor with people age between 25 and 32 getting the most points.
FSW Canada visa will also allow your spouse or dependent children to migrate to Canada and get PR.
Contact Kansas for FSW Canada Visa
Are you considering migrating to Canada?
You will have better chances of qualification if you hire a professional visa consultant. Kansas can help you reach your dreams in the most efficient manner possible. At no point will you feel alone, our professional process consultants will we be with you every step of the way.
Get in touch with us for a free consultation and eligibility assessments.