IELTS For Canada Immigration- Scores Required On Different Programs
Posted by Admin
Posted on May 18, 2018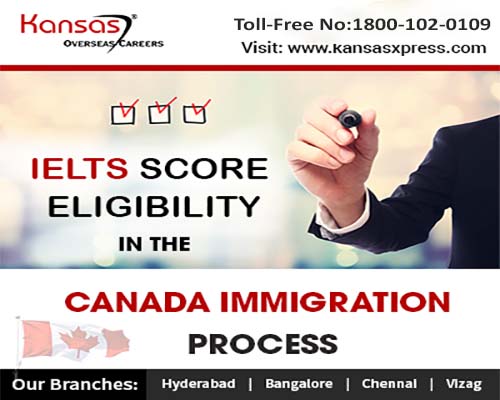 Are you planning to migrate to Canada this year?
Canada is an immigrant-friendly nation with good infrastructure, education, and healthcare facilities. Canada has also been praised for its living conditions. with its strong economy, IELTS for Canada Immigration is requirement for many skilled jobs and they look up migrant professionals to fill this gap. For shortlisting and eventually awarding candidates with PR, the Canadian government uses a point based system to evaluate each candidate. One of the most critical factors in awarding of the points tally will be your language proficiency.
As is the case with most English speaking countries, you will be asked to take part in the proficiency test commonly known as IELTS (International English Language Testing System). Required IELTS for Canada Immigration process, to get a good score in IELTS need more practice, with the support of a right institute you can improve your score.
The Canadian Language proficiency requirement
Through the IELTS language test candidates are allotted different scores based on their speaking, reading, writing and listening abilities. This test is for the English language. You can also take part in a proficiency test for French, for which you will get additional points.
Canada also has the Canadian language benchmark score to find out qualification for the specified immigration program the applicant applies for. You can check your eligibility by comparing your IELTS score with the CLB Benchmark score. It is required, candidates should know more about the importance of score in IELTS for Canada immigration process.
| | | | | |
| --- | --- | --- | --- | --- |
| CLB Level | Reading skills | Writing skills | Listening skills | Speaking skills |
| 10 | 8 | 7.5 | 8.5 | 7.5 |
| 9 | 7 | 7 | 8 | 7 |
| 8 | 6.5 | 6.5 | 7.5 | 6.5 |
| 7 | 6 | 6 | 6 | 6 |
| 6 | 5 | 5.5 | 5.5 | 5.5 |
| 5 | 4 | 5 | 5 | 5 |
| 4 | 3.5 | 4 | 4.5 | 4 |
What is the IELTS requirement for different Canadian immigration programs?
We can divide the PR programs for Canada into two, i.e., the Express entry system (federal immigration system) and the provincial nominee programs (PNP and QSWP). The express entry system and the PNP program has different IELTS requirements. Here are some of the point equivalents required for different immigration programs;
The Express Entry system (federal immigration system) requires a CLB score of 7 to qualify.
The Ontario immigrant nominee program requires a CLB score of 7 if it's for the express entry aligned stream
Nova Scotia Nominee program also requires candidates to have a CLB score of 7
For the Manitoba provincial nominee program, a CLB score of 4 is required for candidates who are experience is low skilled and semi-skilled occupations
The Saskatchewan immigrant nominee program requires candidates to get a score of CLB 4 if they are opting for the OID stream and a score of CLB 7 for the aligned express entry scheme.
If you are looking for student visas you will have to score at least 5.5 in each IELTS Segments with an overall score of 6 for undergraduate programs.
For graduate courses, you will be required to score at least 6 in each of the IELTS segments and should have an overall score of 6.5 to become eligible.
You can check the IELTS for Canada Immigration – CLB comparison chart and easily find if you are eligible for a particular immigration program
Reach Kansas for Canadian PR
Are you confused about which program to take? If you are in need of any advice or assistance you can head over to our dedicated website and talk to an expert.
We are the best Indian consultants when it comes to Canadian PR, with over 5000 successful applicants and a success rate of 95%.
Make a call to our dedicated help desk or drop an email at our official id. Our immigration experts will be replying to your queries within no time.