How To Immigrate To The Quebec Province?
Posted by Admin
Posted on October 11, 2018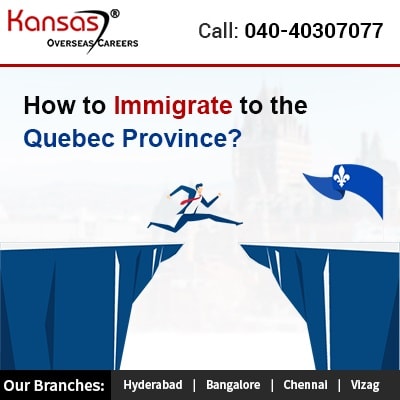 Quebec Province  is the prime immigration destination for professionals across the world. The major reason as to why the above destination is popular due to its convenience and skill. It works along with the Canadian immigration system and it is designed to offer a steady stream of skilled immigrants having Permanent Residency status who can actively as well as consistently contribute to the local economy.
The Quebec Province made varied changes to the Quebec Skilled Worker (QSW) Program. All those who are interested to immigrate to Quebec Canada must meet the minimum requirements. The Quebec Skilled Worker accepts the application throughout the year and they can submit their Expression of Interest(EOI) at any time.
Almost all immigration programs have a minimum criterion which needs to be fulfilled and QSW Program is no different.
The Provincial Nomination Program (PNP) which includes Quebec PNP helps both provincial as well as territorial governments in Canada to attract immigrants to their region.
The applicants for Quebec PNP Selected Skilled Worker Program must demonstrate both skills as well as ability to become economically established in Quebec. Quebec province has different selection process as well as separate assessment when compared to Canada process. However, the CIC acknowledges the applicant's selection who meets the Quebec immigration selection criteria, these applicants are eligible to apply for Canada Permanent Residency.
Once the applicants receive a Quebec Selection Certificate(CSQ) they must complete the medical as well as security examinations conducted by the Canadian government to be granted a Canada Permanent Resident Visa.
Selection Factors for Quebec PNP
Area of Training
Education
Work Experience
Valid job offer
Age
Language proficiency
Spouse or common-law characteristics
Stay and family in Quebec
Financial Self sufficient
Presence of accompanying children
The Quebec Province implements a Quebec Skilled Worker Program. The federal government enables the Quebec Province to invite a specific number of talented as well as skilled immigrants who can contribute towards the economy and the growth of the province.
Who can apply for Quebec Skilled Worker (QSW)?
An Individual who holds a Quebec Selection Certificate from the Government of Quebec can apply for Quebec Skilled Worker, they are required to submit a complete Permanent Residence Application and it includes police certificates.
If you are interested to know more about Quebec immigration, get in touch with our Canada immigration experts they would be happy to assist you.