Immigration to Canada: Visa Types You Should Be Aware Of!
Posted by Admin
Posted on January 5, 2018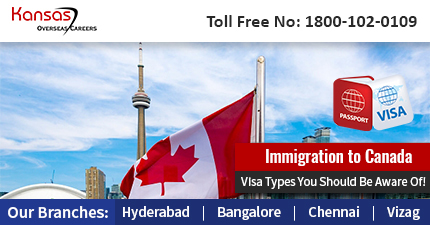 Canada is a nation of opportunities. Whether you are a skilled worker, a student, a business owner or a just a casual visitor, there is a range of visa program offered by Canada immigration. Each visa differs in its own criteria and purpose. Below is a list of visa types of Canada you need to know to immigrate to Canada or move to Canada for study, visit or work.
Temporary Resident Visas/Visit Visas
For people who want to visit Canada for a short or limited period of time, they need a Temporary Resident Visa or a visit visa before arriving into the Maple country. Generally, the validity of a TRV or a visit visa depends upon the purpose or application. Approximately, visit visa holder can reside in the country for a maximum period of 6 months. If he or she wishes to continue the stay, he needs to apply for the extension before the expiry of his TRV. The mandatory conditions to apply for a TRV are:
Good health and moral character
Respect Canadian Law
A valid passport and/or travel documents
Satisfy an immigration officer that you intend to leave Canada after your purpose your fulfilled (Letter of Intent)
Sponsorship letter (in case anybody is sponsoring your stay) or Letter of accommodation (showing your plans of stay)
Proof of funds to manage to stay in Canada
Interview with Visa officer (in specific circumstances)
Student Visas
Citizens of outer nations who are not a permanent resident and seek for Canadian education must apply for a Canada student visa. This visa is valid till the time of the chosen course duration. Some Universities of Canada also allow their candidates to work in-campus while studying and residing in the country on a study permit.
To apply for a student visa for Canada, the conditions are:
Acceptance letter from a school, college or University of Canada
Proof of funds to showcase your capability of paying tuition fees, managing living expenses, transportation, etc.
Proven record of moral character and no evidence that you are a threat or a risk to the security of Canada
Proven good health through medical examination
Statement/Letter of Purpose showing your education purpose and a commitment to leave Canada after study
Documents (such as a valid passport, ID card etc)
It is to note here that these conditions do not imply to a foreign person who wishes to take up short term (six months or less) courses, is a foreign representative to Canada or a member of any foreign armed forces.
 Work Permits  
For a medium-term stay and work in the country, many agents suggest for a work permit. This is nothing but a permit that grants you a temporary stay and works right in the country will lesser benefits. To obtain a work permit of Canada, the mandatory requirements are:
Job offer from a Canadian employer
Proof that you meet the requirements of the given job (through experience or skills statement)
Additional requirements (contract of 1 yr or so)
In several cases, a positive LMIA from the Human Resources and Skills Development Canada (HRSDC) is sufficient to proceed with the work permit processing. This LMIA proves that when the Canadian employer was unable to fulfill his vacancy through the domestic workers, he offered you the respective job. Some Canadian jobs do not require LMIA as well.  It is to note here that several occupants who perform clergy works, reporters or performing artists do not require a work permit too.
One of the most commonly chosen work permits of Canada is the Post-Graduation Work permit. This is applied by students who have graduated and wish to work simultaneously while they study their Post-graduation in Canada. Till the visa is valid, you can study and work in Canada. The only condition is to have a course of study which is more than eight months.
Permanent Resident Visa
 These visas are today's most commonly applied visas for a long term stay. Canada has exclusive benefits and facilities for permanent residents. Candidates who apply for a PR visa are at a larger benefit who applies for work permits or any other type of visa. This is because through this visa the applicant can gain permanent residency status for himself and his family. Moreover benefits like free education, free healthcare, social security etc. also can be claimed on this visa. There are different types of Canada Permanent Residence visas one can apply for:
 Canada Express Entry Visas
These visas are granted determining eligibility upon standard points. The ranges of Canada PR visa programs that come under the Express Entry category are:
Atlantic Immigration Pilot Program
To fill the vacancies faster of few Atlantic Provinces, the Canadian government started the Atlantic Immigration Pilot Program. Job offer is mandatory for this program. The benefit is the process takes less time and there is less constraint over work experience and English language skills.
Quebec immigration programs
Quebec Immigration, though a province of Canada runs its own immigration system. The Quebec skilled worker visa program is a common visa program to settle in Quebec. The application and selection system of Quebec visa works on a first come first selection basis. However, processing time is longer than other types of Canada PR visas.
 Start-Up Visa Program
For business owners who have caliber and intention to grow their business in Canada and seek a Canada Permanent Residence status, Canada introduced the Start-up visa program. Candidates with the following traits can apply for this visa:
Have a business plan that is supported by a designated investor agency
Meet the basic language skills and education requirements
Show enough proof of funds to establish business and settle in Canada
Agree to hire a specific number of Canadian citizens in their venture
Caregiver Program
 With the increase in aging population and shortage of workforce to cater the caregiver vacancies, Canada is inviting relevant talent from outer nations. The Caregiver program is exclusively for candidates who are specialized in caregiver jobs or nursing.
Family Class Immigration Program 
 As a Canadian permanent resident or Canadian citizen, a candidate will have rights to sponsor his spouse, dependents and/or parents and grandparents. Family class immigration programs, spouse sponsorship, parent grandparent programs, super visa program etc. are some of the widely applied family immigration programs of today.
If you are looking for any type of visa mentioned above, Kansas Overseas Careers is a one-stop Canada visa agency to fulfill all your visa process needs. Along with a reliable visa process, we as prime immigration consultants also provide assistance in finding a job, preparing for the IELTS exam through online training material and additional assistance. Consult our Canada visa agent today and know more about us @ 18000-1020-109 and know how we can help you in your immigration to Canada process.