Improvise your income scope with Canada student visa
Posted by Admin
Posted on August 24, 2018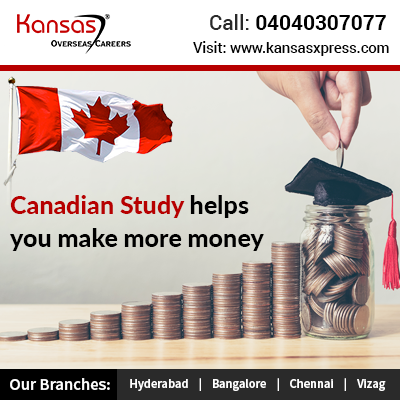 People study abroad so that they can have better financial success in the future. According to reports those people who study in Canada are found to mint more money as compared to other students who have degrees from other countries. Let us have a closer look in order to get a better idea about the relationship between Canadian education and financial success.
The Canadian advantage:
It has been found that the Canadian born people usually made more money as compared to other immigrants. This is because they had to local advantage. That is they know the local language and they also know the place better. However in the long run it was found that immigrants who had degrees from Canadian universities made more money as compared to the international students who had degree from other countries but in the long run.
Usually skilled workers who come from other countries opt for the Express entry system. They naturally have work experience and skills which help them earn more money. Students who have just got the degrees are beginning their careers. So obviously their pay scale will be low. But in the long run their Canadian degree, better language skills etc. give them the added advantage. They start earning more as compared to their colleagues who have degrees from foreign universities.
There are a few things that a student studying in Canada can do. He can study in Canada and work as an intern in the summers or he can opt for a post graduation work permit. Though this is a temporary visa it is one of the best ways to get Canadian work experience. This can also help you get the permanent resident visa in the future.
Students who want to come to Canada after completing their education can also opt for Provincial Nominee Programme. Each province has its own provincial Nominee Programme depending on its specific labour requirements. Express entry system is also one of the fastest ways to move to Canada.
Canada-One of the best countries for immigrants:
According to some reports the average salaries of some professions are slightly less as compared to the US. But then you need to keep in mind that cost of living. Cost of living in Canada is less. As compared to countries like New Zealand the salaries in Canada is found to be higher. Also Canada is an immigrant friendly country. The law and order situation is very good in this country. You will find that students from many different countries come and study here. So, you are not alone. There are a large number of Indian students who study in Canadian Universities.
Degrees from Canadian Universities are considered to be really good. Also if one has plans to settle down in Canada then a degree from Canadian university will definitely give an added advantage in the future.
In order to get a better idea about studying and working in Canada it is better if you consult good Canada visa consultants. They will be in a better position to give idea about the courses that you can pursue there. They will also be able tell you about the different visa categories and how to apply for the same. Canada is definitely a good country to study, work and settle down.
If you are interested to start your visa process then walk-in to one of our branches or call @ 04040307077 or mail us @ info@kansaz.com