Indians must immigrate to Canada in 2018- Top 3 Reasons
Posted by Admin
Posted on August 21, 2018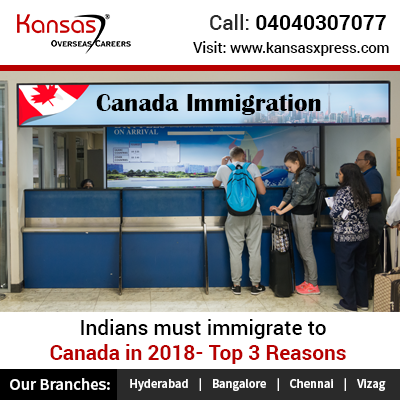 Those Indians who have been thinking to immigrate to Canada this is the best time. Yes 2018 is the best time for Indians to apply and move to the maple leaf country. This is because Indians are in huge demand in this country. Here are the top 3 reasons due to which Indians must apply for Canadian PR this year.
Indians had given preferential treatment:
According to reports skilled professionals from India are being given preference for permanent residency and employment in Canada. In the year 2017 maximum number of invitations to apply had been released for Indians. To be precise 36,310 invitations have been received by Indians. India has left countries like China and UK far behind. Even in the year 2016 the scenario was not different. India had received maximum number of invitation that is 11,037. Maximum number of invitation was given to IT professionals in the year 2017. Most of these professionals were from India.
You are not alone to immigrate to Canada:
The second advantage is that there are a large number of Indians in Canada. It has been found that more than 60% of the population is from Asia. Most of these people are from India and China. Almost 3.8% of the total population in Canada is of Indians. At the end of January 2015 there were more than one million Indians in Canada.
Settle down with family:
Canadian authorities want to encourage more number of skilled professionals to immigrate to Canada. They want more number of skilled immigrants who can contribute to the overall economic development of the country. They want to encourage more people to immigrate along with their families. This will ensure that they will settle down in Canada for good.
This is the reason that a large number of benefits are being given to these people. They are given free healthcare benefits. Also the education system of Canada is very good. There are very good facilities for primary and high school education. There are also large number of good universities which offer some really good courses. The Canadian permanent residents are given protection under the Canadian law. The country has immigrant friendly laws and this is a safe place for women and children. The cost of living in Canada is much less as compared to other foreign countries. So naturally it is one of the best options for people who want to migrate along with their families.
Besides these main reasons there are number of other reasons due to which Indians must think of moving to Canada this year. This includes good quality of life, strong economy, good infrastructure, number of good job opportunities etc.
Immigration consultants can show you the right path:
If you too are keen on moving to Canada along with your family then you must opt for a good immigration consultant. Select reputed Canada visa agents who have successfully helped large number of people apply for the visa for Canada. Opt for immigration consultants who will provide all the correct details about the selection of visa categories and completion of different visa formalities.
Canada is one of the best countries to live in the world. Skilled people from India have a better chance of migrating to Canada. So if you have plans to work and settle in Canada then 2018 is the right time to make the move.
If you are interested to start your visa process then walk-in to one of our branches or call @ 04040307077 or mail us @ info@kansaz.com