Kansas Consultation & Evaluation- What it includes
Posted by Admin
Posted on April 9, 2018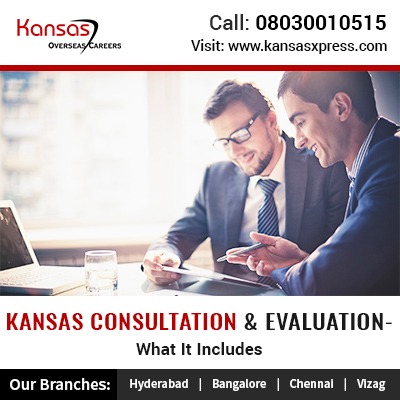 There are a large number of aspirants who have an eye on the permanent resident visa of Canada. The number of benefits that one enjoys are simply too good. So, naturally Canada is one of the most sought after destinations. But the process to get the permanent resident visa to Canada is not that easy. It involves a number of tedious procedures. For this it is better to consult trusted Immigration consultants who can provide you with proper advice.
Kansas Overseas Careers-A name that you can trust:
If you wish to get proper guidance then you need to opt for a good consultant. One of the best in this regards is Kansas Overseas Careers. We have one of the best and well trained staff. Our team members are always on their toes to provide the best services to the clients. When you first approach us our experts will give you complete details about immigration. We will go through your credentials and qualifications. Based on this we shall provide you with counselling on immigration to Canada. We shall make sure that each and every detail in lucid manner. Our services are much different as compared to other Visa consultants in India. We provide initial evaluation services which helps in getting proper idea about your chances of getting a visa.
A few details about our initial evaluation service:
When you first approach us we shall request you fill up an evaluation form. You will have to provide all your personal details in this form. You will also have to enter details about your qualifications, work experience etc. Based on this our counsellors will give you an idea about the points that you can earn in the comprehensive ranking system. Experts in evaluation calculate the points according to Canadian parameters. Based on the points our experts will be able to give you a fair idea about what are your chances of getting the permanent resident visa for Canada.
Avail to the benefits of our Initial Evaluation Service:
We are one of the best immigration consultants in Hyderabad who evaluate all the details and give you perfect idea about your chances of getting the visa. In the initial evaluation service we will also let you know about the things that you can do or improve in order to improve your points tally. We take into account the client's profile and provide personalised guidance for application, visa category selection etc. We provide authentic evaluation services. Our evaluation service conforms to the country's immigration laws. Our experts issue the report only after taking into consideration all the aspects of the client's profile.
For best services get in touch with us:
You may come across a number of immigration service providers. But the big question is can you trust them? The long list of satisfied clients of Kansas overseas Careers is proof about the fact that we are trusted Visa consultants in India who provide the best services. If you want to realise your dream to immigrate to Canada then get in touch with our experts or call 08030010515 at the earliest.