Immigration Plan 2018- 2020 to be a Mega drive for Canada Express Entry
Posted by Admin
Posted on April 25, 2018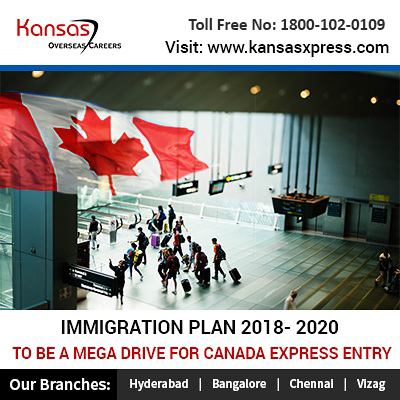 Canada is a preferred country for many professionals as it is one of the best countries which can provide a good scope for skilled workers. The weather around it is very pleasant and beautiful. Also, Canada is well known for its education, career options, developments, innovation etc.
How to migrate to Canada?
A well profiled professional always think for a better living and Canada can be the best option for all his dreams. Canada Express Entry is the pathway to fulfil this Canadian dream. It is an electronic and point-based programme used for migration since 2015. The points are calculated on several factors of the applicant like age, education, skills, experience, language proficiency, etc. Based on these parameters, the candidate is assigned with points. Overall, 67 points make him/her eligible to migrate.
Immigration Plan 2018- 2020: A boon for Skilled Workers
The immigration authorities of Canada have announced to take a million immigrants to Canada by the year 2020. This has increased a great confidence among many skilled workers. The Federal budget declaration also gave a clear idea on how the country is encouraging to provide a positive impact on its immigrants. The fund distribution for various groups of immigration was equally laid down by the government. In this plan, English and French training assistance are also favoured with funds. Also, large scales of supporting programmes are being set up.
Initial Draws of 2018 and their Impact:
Candidates who are meeting the necessary points are added to the Express Entry Pool. Then they ranked according to a point based system known as Comprehensive Ranking System (CRS). Canada Express Entry Draws are regularly held with a cut-off score and CIC selects the professionals who fall within this score.
  The first draw for the year 2018 took place in the month of January and has invited 2500 professional to apply for Permanent Resident Visa. The selected CRS score was one of the lowest scores in the draw. Canada with its great friendly behaviour has invited 3200 more applicants in this draw than compared to the draw of the same month during the past year.
When is the Best time to apply?
If you believe Canada is your dream place to settle, then get up and get ready with your application as this is the best time to apply. A professional with perfect skills can easily utilize this fortunate time because a number of applications are being accepted and at the same time a number of people are being invited. Hence, all the professionals are hereby welcomed for quick application.
The exposure provided for 2018:
The year 2018 is going to be a good sign for all skilled workers. The low cut off scores, increase in the number of invitations, expansion in the acceptance of immigrants to Canada, etc. are few reasons that make it so. The country is waiting for the skilled candidates who can enhance the country's economic growth. For this, it is also inviting candidates with low CRS by issuing provincial nominations. Therefore, there is definitely a chance of getting PR even for candidates with a decreased CRS.
All you need is a right direction
While applying on own is nothing complication, a right navigation can provide right and quick results. A trusted and experienced immigration consultant is a navigation you need to quicken your Canada Express Entry application. This is because through a trusted consultant you will not only get guidance in application but also tips on how to improve your score.
Kansas Overseas Careers is a trustworthy consultancy which helps you by guiding and supporting till the end of your visa process. Connect to a Canada immigration consultant of Kansas Overseas Careers and know your scope for a Canada PR visa in 2018.
Know more information about Canada immigration process and Canada PR Visa contact us @ http://www.kansasxpress.com/contact-us