Migrate to Canada from Chennai in assistance of trusted visa agents
Posted by Admin
Posted on May 16, 2018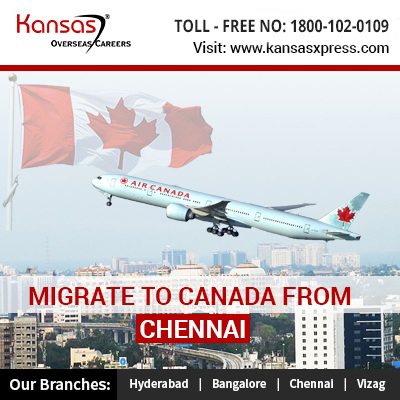 Canada is a country which is renowned all over the world for it's tremendous educational and healthcare facilities. Canada is one of the safest and happiest countries in the world. Every year thousands of Indians migrate to Canada and settle with their profession. from chennai in the assistance of trusted visa agents.
The economy is very strong as well, hence jobs are always present. Canada is the best place to raise your children as it has the world's best education systems.
Here is some general info
The average household earns more than US$28,000 per annum after taxes.
The major cities like Toronto don't show up in the top 50 of any pollution index. Water quality is also great.
The life expectancy of an average Canadian is 81 years. The health index also ranks Canadians as having more than average health.
Canada also ranks among the best country for citizen safety, it is the best country in the world for acceptance and tolerance of minorities
Work-life balance is also among the highest.
9 out of 10 Canadians that they are satisfied with their housing. The living quality is also very high.
Canada is the second largest country in the world, with almost 10 million square kilometers of countryside there are plenty of places to wind spend a day with your family
Kansas: A trusted visa agent, Migrate to Canada from Chennai
Kansas overseas careers provide all types of immigration plans to Canada. Professionals can make use of the Canada express entry program and the provincial nominee programs to migrate to Canada.
Kansas also helps thousands of students yearly, in helping them to get into good colleges and universities in Canada. Kansas also helps in the application processing. All you have to do is submit the right documents.
Want to just travel or want to experience what life is like in Canada? Kansas also helps Indian citizens to acquire temporary travel visas.
With its vast number of immigration experts, Kansas is the  trusted visa agents in Chennai. Our Chennai team is made up of immigration experts, process experts and people who are capable of handling case files.
With the number of regulation changes and reforms happening in the immigration yearly. Kansas with its resident experts will be first ones to know. We also have industry experts as a part of our team to help us understand the reforms better.
How KOC helps in migration to Canada from Chennai
Whether you are applying for a critical skills visa, student visa, or a visit visa, Kansas will provide a dedicated visa expert from the time of your registration till your application is approved by the governing bodies.
Kansas is the only immigration Trusted Visa Agents in Chennai providing the widest range of visa to Canada.
Every information that you may need is shared through the designated experts and we will remain transparent about all the inner processing activities as well.
We value your time, hence all the applications which are scheduled are processed within the least time with no hierarchy or preference. Kansas overseas consultants have the best visa delivery time among all other service providers in India.
We focus on the client needs and go forward with these needs set as objectives.
Connect with our dedicated representative to know more or take our eligibility assessment for a through valuation.