New EOI Based System For Canada Immigration & Its Benefits
Posted by Admin
Posted on November 3, 2018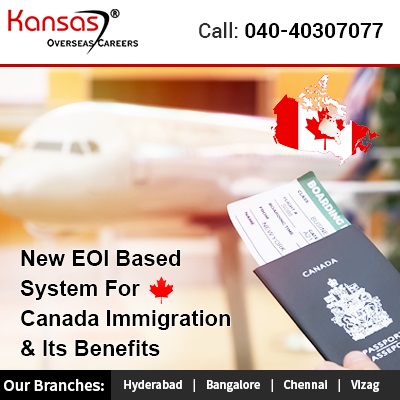 In 2018, major Canadian provinces have started introducing the Expression of Interest (EOI) for their application intakes. Previously, varied programs of the provinces accepted the application on the basis of first come, first served pattern. But, now the new EOI system successfully replaced it. Presently all who are interested in Canada immigration for different provinces should first submit their EOI profile. Canada Express Entry (EE) already follows the EOI system, since its launch in the year, 2015.
The candidates, after the submission of EOI profile in the online system, for their preferred provincial nominee program. The applications get reviewed and PNP selects those candidates who are suitable to meet the market needs of the provinces and those who can help to grow the economy. The selected candidates get an Invitation to Apply (ITA). Those individuals who have received the invite have characteristics required to settle in the province.
New EOI Benefits For Canada Immigration :
The new EOI system would majorly focus on Human Capital factors rather than follow the first come, first served basis.
Increased number of aspiring candidates can apply through a new EOI system. Previously, only limited applicants were permitted to apply while the PNP is open
Applicants would receive sufficient time for application submission. Earlier, the applicants had a few hours for application submission (through a first come, first served system).
Major Provincial Nominee Programs Of Canada For Which EOI Has To Submitted :
BCPNP-British Columbia Provincial Nominee Program
MPNP-Manitoba Provincial Nominee program
PEI PNP-Prince Edward Island Provincial Nominee Program
AINP-Alberta Immigrant Nominee Program
SINP-Saskatchewan Immigrant Nominee Program
NSNP-Nova Scotia Nominee Program
OINP-Ontario Immigrant Nominee Program
Northwest Territories Nominee Program
The aspiring applicants are also required to pass a medical exam and get police certificate. The above requirements are mandatory.
The applicants find it easy to get the provincial nomination and later receive Canada PR as well. The PNP, time to time update varied rules as well as procedures so that the applicants without hassle can migrate to any of Canadian provinces.
Aiming to settle in Canada permanently, get in touch with our Canada visa agents to know the updating rules of all the Canadian province to make your Canada immigration process easy.