No family in Canada? Don't Worry-Immigration is easy for you too!
Posted by Admin
Posted on September 14, 2018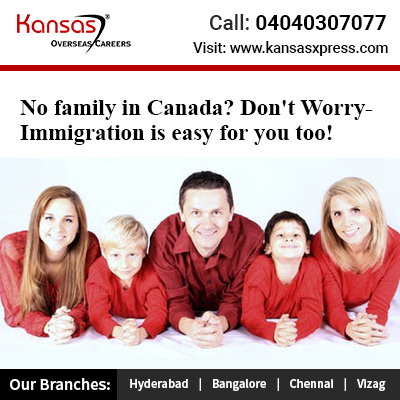 One of the easiest ways to come to Canada is by family immigration. If you have a close relative who is a permanent resident or citizen of Canada then it can be one of the ways of migrating to Canada. But if you have no family members in Canada then too there is no issue. There are number of other ways by which you can easily move to Canada.
Express Entry System:
Skilled workers can apply through this system. This can apply for the federal skilled worker visa. The candidate needs to create a profile. He will be given points based on different factors like age, education, skills, work experience, language proficiency, etc.  The candidates with higher points will have better chance of getting an invitation to apply for the permanent resident visa of Canada.
Quebec selected skilled worker programme:
To apply for this programme the candidate needs to have required in demand skills, education and work experience. The Quebec Government will give the selected candidates Certificat de sélection du Québec (CSQ). Once the candidate gets this certificate they can apply for the Canada Immigration to the Immigration, Refugees and Citizenship Canada that is IRCC.
Start-Up visa programme:
If you have ideas to set up a business in Canada then you can opt for this programme. But in order to apply for this visa, you will have to give the proof that you have enough money to start and support your business in Canada.
Self employed person immigration:
Self-employed individuals with the required experience and also having global level experience in athletics and cultural activities can apply for this programme.
Provincial Nominee Programme:
All provinces in Canada have their own provincial nominee program. The only exception is Quebec. The PNP programmes are designed keeping in mind the labor market requirement of that province. Those candidates who want to settle down in a particular province and have the required skills, education and experience as specified by that province can apply for this programme.
Atlantic immigration pilot programme:
Those candidates who are interested in settling down in Prince Edward Island, Newfoundland and Labrador, New Brunswick, or Nova Scotia can apply for this programme. The candidate needs to have the required qualification and work experience. It is mandatory for the candidate to have a job offer from a designated employer in order to apply for this programme. The candidate will have to find the designated employer on his own.
Confused about which programme to select? Then opt for a good visa consultant!
It can be very confusing for the person to select the correct programme. It is always better to consult Canada visa agents. Select an immigration consultant who has proven expertise in visa and immigration procedures of Canada. Based on your education, skills and work experience a good visa agent will help you select the correct visa programme and will also update you about the requirements of that particular programme.
Having a family in Canada is not the only way to migrate to Canada. There are number of other options. But you need to have the right education, qualifications, skills and work experience to apply for these programmes. You can always take expert advice and guidance in order to understand which is the best and easiest way to migrate to Canada.