Know the objectives of New Brunswick Provincial Nominee Program for the coming five years
Posted by Admin 1
Posted on September 21, 2019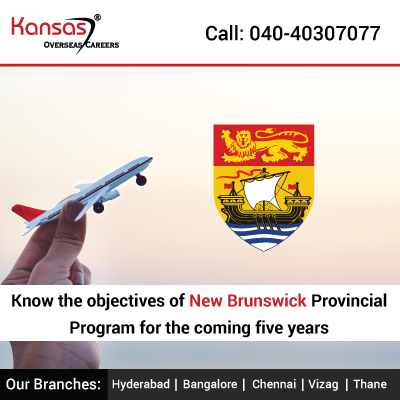 Due to the aging population, the government of New Brunswick Provincial Nominee Program is aiming to invite migrants to province for next five years. Hence, it targeted to accept about 7500 applicants every year to achieve by the end of 2024. Indeed, it believed that this objective will increases the population of the province by 1% and makes two times the proportion of migrants who are already continuing in the province.
Their population strategy clearly states that achieving immigration targets would be made possible, via the NBPNP & AIP. Under the New Brunswick Provincial Nominee Program (NBPNP), the province can choose the eligible group of skilled workers, businessmen, and international graduates from post-secondary institutes of New Brunswick to apply for PR. In addition, the Atlantic Immigrant program is a significant employer-drive initiative established in the Atlantic Canada region last year to employ international workers to cater the labor needs.
The key objectives of New Brunswick Provincial Nominee Program involve:
Employ businessmen or entrepreneurs to improve their sustainable fiscal development.
Achieve lively atmosphere so that the new immigrants can successfully settle in the country with their families.
Enhance the communities to accomplish openness in the provinces to immigrants and expand furthermore.
Draw the skilled workers to cater the needs of the market conditions.
All the above objectives are mainly intended to attract the international workers, business communities, skilled workers.
To successfully boost the cultural capability training to the companies in New Brunswick.
Link groups and other communities to assist the new immigrants in their exploratory vacation.
Assist the immigrant settlement agencies to offer settlement services catering the needs of new immigrant's partner and children.
Look into the Entrepreneur group of

NBPNP

to assure that the new immigrants can successfully establish their business.
Encourage foreign students to settle in the province after their education and support provincial immigration programs in francophone markets.
If you wish to apply for New Brunswick Provincial Nominee Program, then you can contact Kansas Overseas Careers, the prominent Canada visa consultants. These Canada visa consultants help you to understand the current procedures and assist you to successfully process your application. You can get in touch with Kansas Overseas team as they are certified Canada visa consultants located in the market. Connect with Canada visa consultants now. Call us @ 1800-102-0109 or write us @ info@kansaz.com