Quebec Immigration- Details of the New Immigration System
Posted by Admin
Posted on July 26, 2018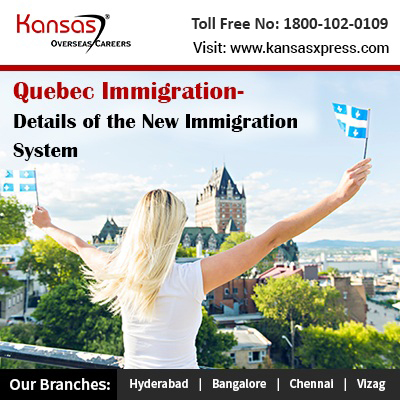 Those skilled professionals who want to settle in Montreal or any other place in Quebec  Immigration will be assessed under a different system. This is called as the Quebec skilled worker programme.
Understanding the Quebec's Expression of Interest:
A new expression of interest system will be introduced from 2nd August 2018. Those candidates who are keen to apply for immigration to Quebec will have to submit a expression of interest for the same. There will be a Quebec expression of interest Bank. The candidates who are keen on migrating to Quebec will have to submit their profile in this bank.
Currently the Quebec Immigration programme is only available for those candidates who are cap-exempt. Very soon the dates for the new intake period will be announced. The next thing that you would like to know is who the cap-exempt candidates are. These are candidates who have employment offer that is certified by MIDI. It also includes those candidates who are temporary residents of Quebec and are eligible to apply for PR for Quebec.
Those candidates who want to apply for the Quebec skilled workers programme must use the secure Mon projet Québec. From here the candidates can complete their application, check the status of the application, make changes to the application, make online payments and they can also access electronic messaging.
Eligibility criteria:
Those candidates who are eligible for the Federal skilled worker programme are given a Quebec Selection Certificate. The selection factors of this programme are different from the regular skilled worker programme. A single person needs to get at least 50 points in the Quebec immigration selection system. Candidates with a spouse have to get at least 59 points. It is also mandatory for the applicant to submit medical certificate and police verification certificate.
Summary of selection factors:
If you intend to apply for the Canada Permanent Residency through the Quebec immigration programme then you need to know the details about the selection criteria. For education the candidate can get up to 14 points. In language proficiency the candidate can get up to 22 points. Age factor can get the candidate up to 16 points. Area of training can get up to 12 points and work experience can help the candidate get 10 points. Financial self sufficiency can get 1 point. Common law partners, accompanying children and family in Quebec can also help the candidate earn points.
For more details consult Kansas Overseas Careers:
The candidate has to complete a number of formalities in this programme. There are a number of documents that he needs to submit like language test result, medical certificate and character certificate. In order to get proper guidance the candidate must consult Kansas Overseas Careers.
We are a trusted name in immigration and visa formalities. We have successfully helped a number of candidates in migrating to Canada. We have one of the best teams for Canada immigration in the industry. If you too have queries for Quebec or any other Canada immigration programme then contact us.