Quebec Immigration- Know whether you qualify
Posted by Admin
Posted on August 18, 2018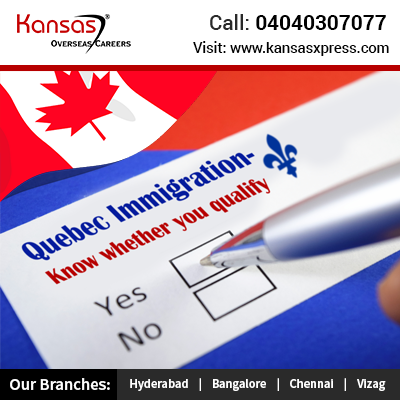 Quebec is one of the provinces of Canada which is very good for settling down. If you are interested in migrating to Quebec then you have to apply for their Quebec immigration programme. Skilled professionals need to apply for the Quebec skilled worker program (QSWP) if they want to settle down in the Quebec province. This is a point based programme. The selected candidates will get Quebec selection certificate. With the help of this certificate they can apply for the permanent resident visa of Canada. A single person needs to get at least 50 to 59 points.
Factors that affect the skilled workers programme for Quebec:
If you want to apply for Quebec Immigration through the QSWP then you need to keep in mind that this is a point based system. There are a number of factors that affect this points system. The basic idea is to select only the best candidates. For education the candidate can get up to 14 points. In area of training the candidate can get up to 12 points. Validated employment offer can get you 10 points. Work experience and stay & family in Quebec can get you 8 points each. For age there are 16 points. Language proficiency can get you 22 points. Spouse and common law partners can get up to 17 points. Accompanying children can get 8 points. Financial self sufficiency will get you one point. The candidate must try to score more points to increase their chances of getting the visa. The candidate must try and score more points in areas like skills, education, language proficiency etc.
In case of education doctorate or Masters degree can help you get maximum number of points that is 4 points. Undergraduate diploma can get you only one point. If you have work experience of 48 months or more then you can get 8 points in the work experience category. If you have less than 6 months work experience then you will not get any points in this category. In case of age 16 to 35 years will get 16 points where as 43 years or more will not get any points. In this way you need to check where you have a chance to get more number of points. In case of factors like age there is nothing that you can do. But in case of factors like education, skills etc you can always try and score more number of points. With more the number of points you have better chance to get Canada Permanent resident visa.
Get in touch with Kansas Overseas Careers for assistance:
If you want to get correct guidance from migrating to Quebec or any other province or territory of Canada then contact Kansas Overseas Careers. We are Top immigration consultants who have successfully helped a large number of people to apply for migration to Canada. We have one of the best and most efficient team of immigration experts. We shall review your profile and do an initial assessment. Based on this we shall tell you what are your chances of getting selected for the immigration programme. We shall also tell you how you can improve your chances of getting selected for the different visa and immigration programmes.
If you are interested to start your visa process then walk-in to one of our branches or call @ 04040307077 or mail us @ info@kansaz.com