Selection Points For FSW Express Entry
Posted by Admin
Posted on October 19, 2018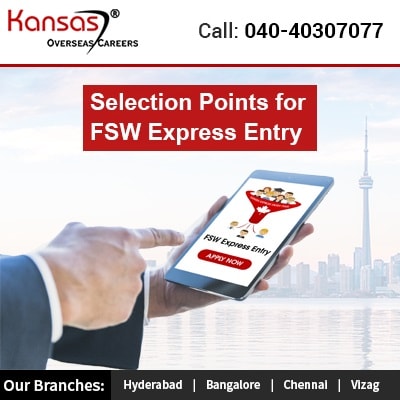 Canada's population has been rising constantly. The population growth is majorly contributed by new immigrants entering the nation each year. Recently as per the report, during the last year, the population has grown by more than 500,000, it helped reach a total of 37 million.
Most of the new immigrants entered Canada through economic channels for Canada Immigration. Below you can find 3 popular immigration pathways for skilled workers who wish to make live and settle in Canada.
Express Entry-Federal Skilled Worker (FSW)
Provincial Nominee Program
Atlantic Immigration Program
Once the candidate is in Express Entry pool, Canada immigration uses a different system to rank candidate's profile, the highest ranking candidates from the pool get an invite to apply for Canada Permanent Residency. The selection points for Federal Skilled Worker (FSW) Express Entry include
1. Skilled work Experience
The candidates should have skilled work experience, in other words, they should have worked in any one of these National Occupational Classifications (NOC) given by the Federal Skilled Worker Express Entry job groups.
a. Managerial jobs(skill type 0)
b. Professional jobs (skill level A)
c. Technical jobs & Skilled Trades(skill level B)
While working the candidates must showcase that, in their primary occupation, they should have performed the duties set out in the lead statement of the occupational description in the NOC. It does include all the essential duties as well as most of the main duties listed.
2. Language Ability
The Applicant's language test would be valid for a period 2 years after the date of the test result. While applying the applicant should make sure the test is valid on the day they apply for Permanent Residency.
3. Education
If the candidate went to school in Canada, they should have a certificate, diploma or degree from a Canadian,
a. Secondary(high school) or
b. Post-secondary school
If the candidate has foreign education, then they must have,
a. A completed credential
b. From an approved agency, they must have an Educational Credential Assessment report stating that their education is equal to a completed certificate, diploma or degree from a Canadian,
– Secondary(high school) or
– Post-secondary school
4. Proof of funds
The candidate must demonstrate they have enough funds for themselves as well as their family to settle in Canada unless you,
a. Have a job offer from a Canadian Employer
b. Are presently able to work in Canada legally
5. Admissibility
The candidate should be admissible in Canada.
6. Where to live in Canada
The candidate should plan to live outside the Quebec province. This province selects its own skilled workers.
7. Get your document ready
The candidate must ensure they keep entire essential document ready beforehand, so that delay does not happen.
8. Submit your profile
Last and important step submission of the profile.
If you are a skilled individual, contact the Canada Immigration consultants today. Kansas Overseas Careers is one of the popular Canada Immigration Consultant that help you to understand clearly all the selection points of Federal Skilled Worker Express Entry.