Top 5 Reasons To Apply For Canada Permanent Residency Visa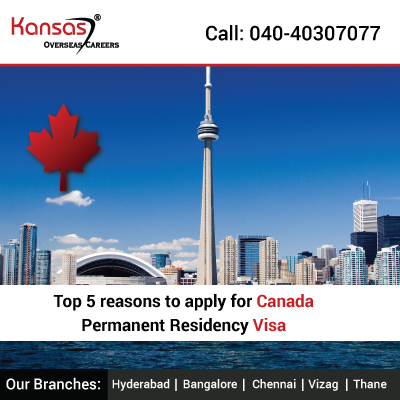 Most of the immigrants choose Canada as the most preferred destinations to settle permanently in the country. As a result, they apply for permanent residency visa in Canada. There are plenty of reasons to select  Canada to apply for Canada Permanent Residency Visa.
The No.1 Destination To Provide Standard Of Living And 2nd Best For Citizenship:
Better standards of living and citizenship are the two significant parameters that most of the immigrants search for when they plan to settle permanently in abroad. As per the recent US news and World report evaluation, it is revealed that Canada occupied no.1 position in offering the best standards of living and 2nd best position in providing citizenship to the immigrants worldwide.
Canada Invites More Than 3,00,000 Migrants As Permanent Residents Each Year:
Every year, Canada immigration invites more than 3,00,000 PR visa applications worldwide to settle permanently in the country. Hence, if your profile is respectable and possess adequate skill set, then your chances of getting permanent residency visa in Canada will be more.
Reputable Point-Based Immigration System To Shortlist The Candidates:
Canada uses Federal Express Entry immigration system to shortlist the foreign candidates to apply for PR visa in Canada. It is one of the rapid and quickest immigration programs to process the Canada applications and to offer PR status to the immigrants worldwide. Express Entry immigration system is an online point-based immigration system came into existence in January 2015. This is a merit-based system where in you can be selected if your score is high.
The Canada PR Visa Processing Time Is 6-8 Months Through Express Entry:
Canada processes the PR applications within 6-8 months through Express Entry. But the processing time may change depending on individual applications, verification process, documents and profile submission.
Impressive Immigration Policy:
Due to low population growth in Canada, it welcomes huge number of under-skilled applications and other classes to fulfill its needs in various industries. As a result, the country enabled  its immigration policies and procedures consistently to welcome a greater number of applications.
To process your permanent residency visa in Canada faster, you can contact Kansas Overseas, one of the prominent immigration consultants. These immigration consultants help you to understand the current procedures and assists you to successfully process your application. You can get in touch with Kansas Overseas Careers team as they are certified immigration consultants located in the market. Connect with Canada immigration consultants now.