Toronto- The Wealthiest Place to Live and Settle in Canada
Posted by Admin
Posted on March 19, 2018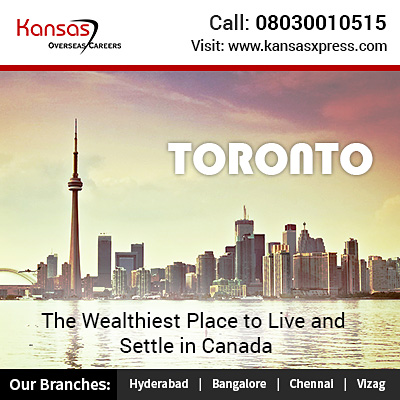 Canada is a dream destination for many people. There are several reasons due to which people want to settle in Canada. This is the place where one can get a good quality life. This is a country where one can get several opportunities to grow in one's career. The infrastructure and the overall way of living are excellent. This is an immigrant-friendly country which has good law and order situation. Most parts of Canada are really good to settle down with one's family. But there is one city which is particular just too good. That is Toronto.
One of the richest cities in the world:
Recently the Global Wealth Migration Review report Toronto happens to be the 13th wealthiest city in the world. This report takes into consideration the private wealth of individuals, equities, cash, properties etc.
The wonderful lifestyle of Toronto:
If you want to experience luxurious Life in Canada and settle in Canada then you must opt for Toronto. This city has one of the best infrastructures. It is a place where you have better options for entertainment and dining. It gives really good quality life. You will find people from different races and countries in this city. People here are friendly and welcome immigrants with open arms and love.
Economic status of the city:
There are plenty of work opportunities in Toronto. This is mainly because it is the economic hub of the country. Several good companies have their head offices in this city. There is no scarcity of good work opportunities for the right candidate. The government here is stable, which in turn helps in the economic development of the city. According to certain reports, the real estate prices of this city are low as compared to other cosmopolitan cities. This statement may surprise many people. But when you make a comparison with cities like New York you will find that this is true.
Safe city:
When one decides to migrate to Canada or settle in Canada then one of the important aspects that are considered is the safety of the city. It has been found that Toronto is a safe city. The law and order situation is really very good. This city is safe for women and children.
Plenty of benefits for immigrants:
As you can see Toronto has several benefits. No wonder that many people today wish to settle down in this city for good. It is a safe land which has plenty of opportunities. The lifestyle and quality of life are truly good.
Want to settle in Toronto? Contact Kansas Overseas Careers!
If Toronto is your dream destination and you need details about migrating to this place then you must contact us. We have successfully helped many aspirants to migrate and settle down in Toronto. Based on your qualification and experience our experts will guide you about the opportunities in this city. They will provide complete guidance to apply for the visa for Toronto. So, go ahead and settle down in one of the wealthiest cities in the world.