Understanding The FSW Program and Its Eligibility Criteria
Posted by Admin
Posted on September 28, 2018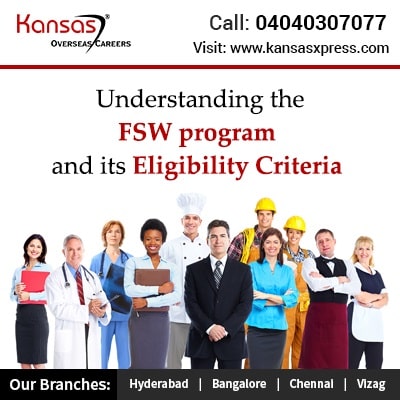 Based on the candidate's ability to settle in Canada, this nation chooses skilled immigrants as permanent residents and they contribute to the economy. The new system has been introduced to manage as to how people with skilled work experience can apply to immigrate to Canada. It is called Express Entry.
The Federal Skilled Worker program is a golden opportunity for foreign skilled/trained migrants to receive Permanent Residency (PR) status in Canada. The federal skilled worker program Canada, makes a selection depending upon the candidate's ability to succeed economically in Canada. The Federal skilled worker is an individual who is selected as permanent residents depending on his/her ability to become economically established in Canada.
Federal Skilled Worker Program
The above program was introduced on 1st January 2015 under which the application from the prospective candidates is processed with Express Entry Selection System. With nearing to 347 high demand occupations, this program is fast track method wherein the candidates' get PR status without much delay. All those applicants who meet the eligibility criteria can go ahead and apply for this program.
Express Entry: For this, the prospective applicants can create a profile if they got minimum passing marks in FSW entry profile, this profile will enter the pool. All those candidates who receive a high score will get selected for Canada Permanent Residency status.
Eligibility Criteria for FSW program
During the past ten years, the applicants are required to have minimum one year of experience as full time in the applying occupation.
Your occupation must be in listed in the high demand occupation.
Should receive the required minimum points under the skill assessment grid comprising all factors.
From a Canadian employer, a full-time job offer and should qualify with the Labour Market Impact Assessment
The candidate should prove their language skills by appearing for a third party language test.
Applicant must provide evidence that they have sufficient funds to settle in the new nation
Gain extra points
The applicants will receive extra points for adaptability if their spouse has  English proficiency
If the applicant has a blood relationship with the Canadian Citizen even then the applicant would get additional points for adaptability. The blood relation should be 18 years and above and they include Mother, Father, Sister, Brother, Aunt, Uncle, Nephew and Niece. The blood relation can be either of the parents or either of the spouses.
Do you wish to find out more about Federal Skilled Worker program and how to immigrate through this program?  Talk to our FSW Skilled Immigrant Experts at Kansas Overseas Careers, they will assist you in right manner.