Visit to Canada from India- Do's and Don'ts of Visa Application
Posted by Admin
Posted on May 17, 2018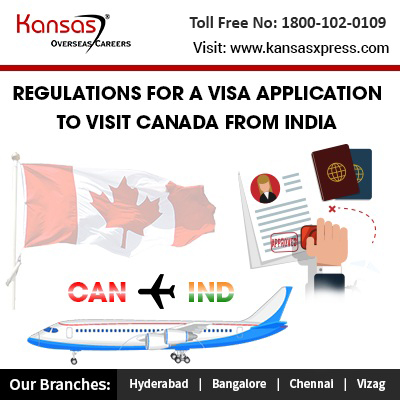 Canada is a beautiful country with bustling cities and millions of square kilometers of pristine wilderness. Canada has a diverse culture fueled by the strong economic growth and its visionary leadership. Canada is also an adventure enthusiasts dream with options for trekking, skiing, mountain biking and many other adrenaline filled activities.
If you want to experience what Canada is without having to permanently move here, a Canadian visit visa can be availed which lets you stay in Canada for up to 6 months. Since many people come on visit visas to Canada and don't come back after their allotted stay, the Government has introduced strict visa application processes to ensure that people who come to Canada will go back after their visit is over. Kansas Overseas Careers will guide you with all instructions to visit Canada.
Some Basic requirements to get a Canadian tourist visa
Have a valid passport and other travel permits.
Be in good health.
Have sufficient funds to support yourself in Canada for the period of your stay.
Should provide proper documentation and other information like family status, assets in the home country etc.
Should be able to convince the immigration officer that you will leave Canada before your visa expiry.
Based on your citizenship you might also require a temporary resident visa.
Medical examination
Do's and Don'ts of Visa Application
Do's
Apply for the tourist visa at least one month prior to your planned travel date so that all the visa procedures will be completed at the time of your travel. If you are planning the trip very early, you can also apply 2 months prior just be sure.
Your visa application should contain accurate information. For a visiting visa, you are required to submit your family status, assets in the home country and sometimes your employment status. If you happen to provide fake information, your visa application will be rejected and you may become ineligible to travel to Canada again.
You should have all the supporting documents and PCC if required at the time of filing the visa application.
You should also clarify the purpose of your visit to Canada. You will have to clearly specify what your plans are in Canada. Whether it a business meeting, or to meet family or just general travel, you will have to mention it. At the time of the interview, you should be able to convince the immigration officer that your intentions are valid and you will come back before visa expiry.
Don'ts
Providing false documentation is a red flag for any visa application. This can get you blacklisted from the country.
 Misrepresentation of information is also treated as an offense which may land you a travel ban.
Visit Visa support by Kansas
Applying for a Canadian visit visa is not quite easy, as is the case with any visa application, hiring an immigration expert for your visit visa will help you get it very less time. At Kansas, our process experts will help you in applying for the visa, processing, and finally help you in clearing interviews if any. We have filed for and made more than 6000 successful applications.
Get in touch with our dedicated help desk to voice your queries or register on our website to get an immigration expert to call you.