What's most promising about Express Entry in 2018?
Posted by Admin
Posted on August 2, 2018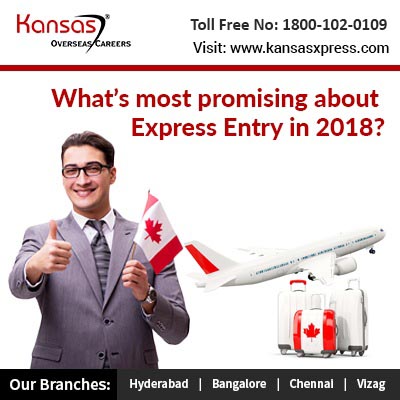 Express entry system is undoubtedly one of the best and fastest ways for skilled professionals to migrate to Canada. If you too are a skilled worker with right qualifications and experience and want to migrate to Canada through the Canada express entry system then 2018 is the right time to do it. Here are some reasons for the same!
Reduction in qualifying scores:
The Canada government wants more number of qualified professionals to migrate to Canada and contribute in the economic development of the country. In 2017 there was drastic reduction in the cut off score of the comprehensive ranking score requirement. This year too more reduction is expected making it easier for a candidate to become eligible for the canada express entry system.
Frequency of draws has increased:
The candidates who have the qualifying marks are eligible for Canada express entry draws. The candidates who get picked up from the draw will receive the invitation to apply for permanent residency of Canada. The frequency of these draws has increased. This gives more opportunities to the candidates to get selected for getting the invitation to apply.
More number of invitation to apply being sent out!
It was found that usually around 3000 candidates were getting selected in the draws. But in the last draw invitation to apply was sent to 3500 candidates. This means that more number of ITA's are being sent out.
Provincial Nominee Programme:
The provincial nominee programme helps the candidate get 600 points which ascertains your place for Canada Immigration. Every province has it owns provincial nominee programme which is designed keeping in mind the labour market needs of that province. Currently most of the provinces have a huge skilled labour requirement. Due to which we can see that there is frequent opening of the provincial nominee programme.
Flexibility of Government policies:
Currently Canada has lots of skilled labour requirements. This is the reason the Canadian government wants to attract more number of foreigners who can make significant contribution to the economy of the country to Canada. This is the reason that Canada has immigrant friendly rules and policies. Permanent residents are getting lots of benefits in Canada express entry system.
Benefits of migrating with family:
This is an immigrant friendly country where you will find people from different parts of the globe living in harmony. The law and order situation is good. This is a safe country for women and children. Permanent residents can enjoy lots of social and medical benefits. The education system of the country is good. There are some very good educational institutes in the country. You and your family get the benefit to settle down in an immigrant friendly country and you can enjoy a good quality life.
If you want to lead a better life then the time is right to migrate to Canada. For more details about immigration to Canada you can get in touch with us at Kansas Overseas Careers. We are one of the best Canada immigration agents. We have helped a large number of candidates to migrate to Canada and will be happy to assist you.
If you are interested to start your visa process then walk-in to one of our branches or call @ 04040307077 or mail us @ info@kansasxpress.com.