Work in Canada- The fastest options of Canada Immigration
Posted by Admin
Posted on July 31, 2018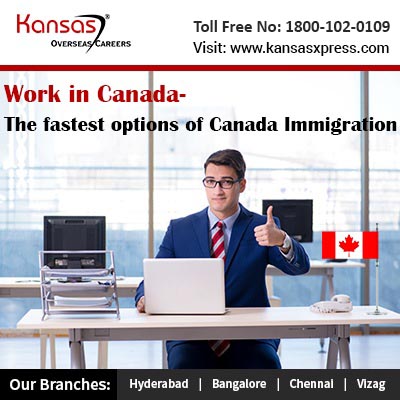 Canada is truly one of the best places for skilled workers. One thing that all aspirants want is fast track way for Canada Immigration. The employment immigration stream is an easy way to find job in Canada. One needs to take into consideration the streams in Global Skills Strategy and certain streams of the Atlantic Immigration Pilot Program.
Requirements for designated employer stream:
The aspirant needs to have a job offer from a nominated employer. Federal Government and certain and provinces allow some companies to hire foreign skilled professionals. Those employers who cannot get competent Canadian workers to fill up certain vacancies can approach foreign workers for the same.
Impact on processing time:
The employment designated stream helps the aspirant get work permits really fast. The Labour Market Impact Assessment (LMIA) is not required for these programmes. With work permits it is possible for the candidate to start working in Canada in about a fortnight.
Atlantic immigration pilot programme:
This programme lets the candidate come and work in the Canada's four Atlantic provinces of Nova Scotia, New Brunswick, Newfoundland and Labrador, and Prince Edward Island. There are three streams in this immigration programme. This stream is mainly for high and intermediary skilled workers and international graduates who have studied in the educational institutions in the Atlantic provinces. The candidates can work with the designated employers. In future these candidates can apply for the permanent resident visa for Canada. It is one of the fastest ways for Canada immigration. The Atlantic regions have a huge requirement for skilled workers. The vacancies need to be filled fast.
Global skills strategy:
This stream is mainly for hiring highly experienced and skilled workers who can make significant contribution in the sector of domestic technology in Canada. The Global talent stream is for temporary foreign workers. It is divided into two categories. One category is the in-demand occupations in Canada. The second category is referral to the Federal Government.
Here is why you need advice of experienced immigration consultant:
If you want to come to Canada Immigration really fast then the designated employer immigration stream is a good option. But the biggest challenge here is to find the job that matches your qualifications and skills. It is important that you go through all the requirements thoroughly. It is therefore better to opt for a good immigration consultant who will provide good guidance in this regards.
Kansas Overseas Careers- Trusted name in immigration services:
Kansas Overseas Careers is one of the Top immigration consultants. We have a highly experienced immigration specialist team. They are well versed with all the technical details of the designated employer immigration stream. We have provided guidance to large number of skilled workers who wanted to migrate and settle down in Canada.
Canada has a large number of visa categories as it wants to attract more number of foreign workers to Canada. But some of these streams can take many months for you to get the visa. For fast immigration opt for the designated employer stream.
If you are interested to start your visa process then walk-in to one of our branches or call @ 1800-102-0109 or mail us @ info@kansasxpress.com