How to work in Canada while studying?
Posted by Admin
Posted on March 28, 2018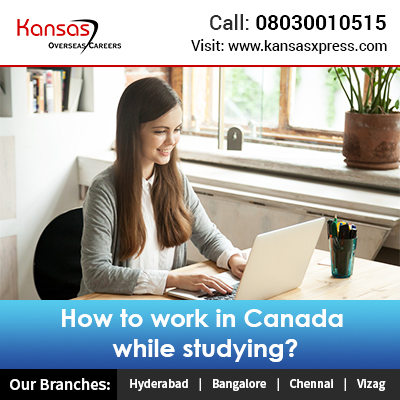 It is always a good thing if you can earn as you study. Especially if you are an international student studying in a country like Canada it can be great if you have a job. This will help you get some money and at the same time, you also get valuable work experience. There are different pathways using which a student can work in Canada. Let us try and explore a few options:
Post Graduation work permits:
In order to get the post-graduation Canada work permit, the person must have studied full time. The person must have graduated from a recognized college or university. When applying for the work permit the applicant has to have a study permit. It is also important that the applicant has passed the study programme and is eligible to get the degree or diploma.
Co-op intern work-permit:
If the person is pursuing a programme in which it is mandatory to get an internship in that case the student can apply for this work permit.
Working outside the campus:
An international student with a proper study permit can work with an employer outside the campus of the institute where he is studying. The students can work for 20 hours every week along with their academic classes. During breaks, they can work full time. In order to work off campus, the candidate must be pursuing a full-time course in a designated learning institute. The person must have a Social Insurance Number and must have a good academic record.
Students who are enrolled for English or French language programmes are not eligible for working outside the campus. Visiting students or students who are pursuing a general interest programme can also not work outside the campus.
Work on campus:
A person with a study permit and one who meets all the requirements can also work on the campus of his institute. The student has to be registered for a full-time course. The student must have a Social Insurance Number. The student can work for the school or any business inside the premises of the campus or for a faculty etc. Basically, the student can only work within the premises of the campus where he is studying.
Applying for a permanent resident visa:
If the candidate has the required skills and qualification then he must apply for the skilled worker visa to work in Canada. This visa will help him get the permanent resident status. A permanent resident can work and study anywhere in Canada.
For correct guidance approach a good visa and immigration consultant:
There are a number of options available for students who want to work in Canada along with their studies. But it is important to have the correct details about the eligibility factor. The best thing to do is to consult reputed Canada immigration consultants. An immigration consultant will be in a better position to give advice on how you can work and study in Canada. Immigration consultants will be able to list down the requirements for study and work permits.
Keep in mind that you have to follow certain rules and regulations if you want to work while you study. If you fail to abide by the rules and requirements then you can land in trouble. In order to avoid this, seek proper advice from a good immigration consultant.