Worried about Canada immigration? We can help!
Posted by Admin
Posted on August 16, 2018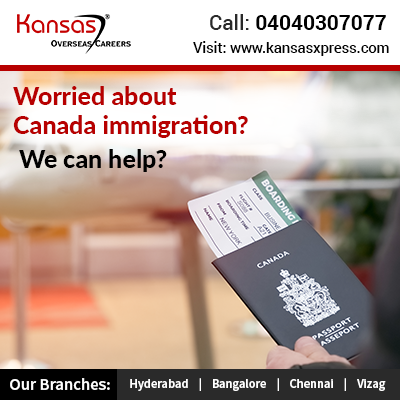 Canada is one country where a skilled professional has a promising future. If you are keen on moving to Canada then there are a number of formalities that you need to complete. You need to select the correct visa category and then complete the required formalities depending on the choice of category. In order to avoid getting confused it is better to opt for a good immigration consultant who can help you in the Canada Immigration procedure.
You can trust Kansas Overseas careers:
Your search for the best immigration consultant ends with Kansas Overseas Careers. We have one of the most efficient teams of immigration consultants who know all the formalities involved in migrating to Canada. We have years of experience in providing immigration and counselling services to a large number of candidates.
A look at our competent services:
Counselling services:
Immigration is not an easy thing. Before you can decide on where you want to migrate you need to be clear about why you want to migrate. At Kansas Overseas Careers we have a team of professional counsellors who will try to understand the reasons why you want to Migrate to Canada and will provide you with the required advice.
Immigration guidance:
It can be very difficult for a lay man to select the right visa category. Depending on the visa category that he has selected he needs to complete the formalities. For this you can depend on our expert immigration consultants who have years of experience in this field. We are considered as the Best Immigration consultants as we provide complete assistance throughout the procedure.
For example if a candidate wants to apply for the Federal Skilled worker programme then we provide guidance for the complete procedure. Right from the creation of Express entry profile to the complete procedure up to the invitation to apply we are there to assist you. Once the candidate gets the invitation to apply our experts will provide assistance for submission of application for the permanent residency visa.
WES services for Canada:
The World Education services provide Educational Credential Assessment. This is applicable for the degrees and diplomas that have been received from outside of Canada. It is in order to check if they are at par with the Canadian degree and diplomas. This is very crucial and can help the immigrant achieve his goal in Canada. We at Kansas Overseas can help you with the WES services.
Job search and resume services:
Your first step to get the right job is by having the perfect resume. We provide professional resume writing services. We can also help you in finding the right job in your home country.
Travel concierge service:
Need travel assistance and assistance in making arrangements for accommodation? Then you can depend on our concierge service for the same.
Post landing services:
Once you arrive in Canada you will need assistance like booking accommodation, applying for driving license or health care insurance. You will need to know guidance for school admissions of your children, information about transportation, tax structure of the country etc. For all these type of post landing services you can opt for Kansas Overseas Careers.
If you are interested to start your visa process then walk-in to one of our branches or call @ 04040307077 or mail us @ info@kansaz.com